With elopements, you can throw all the wedding out the window, and create your very own custom day. However, it can be quite overwhelming! You scour Pinterest, Instagram and blogs to only find that now your picture perfect day becomes someone else's. In this post, I am going to help you with some of the BEST elopement ideas, and how to plan YOUR perfect elopement.
With weddings, the checklist is all laid out for you. It's simple to create the timeline because they are all the same. With elopements, you get to scratch that all and create your very own customized, epic day.
There are SO many ways to celebrate your elopement! You don't have to follow any of the wedding traditions if you don't want to. If your heart is telling you to take this next step in your lives in a more simple, low key way, but you aren't sure where to start, this is for you.
---
---
How to plan your unique elopement experience
If you've decided that eloping or having an intimate wedding is for you, then let's start the planning process!
When starting to plan your elopement, start with a clean slate. Remove all expectations and traditions and start from scratch. Ask yourself, "what is the most important parts of the day to you?". Dream big! If you could create your picture perfect day, what would it look like? Below are some of the key steps to start taking for your elopement planning.
1.Write down all the things you love to do together:
Make an entire list of 5-10 passions, activities and interests you have together, and separately. A few ideas could be: hiking, picnicking, hanging at the ocean, spending time with friends, mountain biking, skiing, ice skate, making breakfast, exploring someplace new, going out to eat, watching the office, etc.
2.Brainstorm your favorite locations
Where do you find yourself always going on vacation? Where do you feel like your best selves? Do you love the mountains, the beach, your grandparents lake house? Having an idea of the place you both feel most at home or at peace is always a great way to narrow down the location you want to have your elopement. This could be a place that you often go to, or even the idea of somewhere completely new.
Imagine what you're surrounded by when you are saying your vows. Or the type of scenery you are adventuring around or having a picnic gathering at. Maybe you can't think of a specific location, but you know that it is in the mountains, or in a lush green forest. Your elopement photographer or planner can help you find a perfect location that fits that vision!
3.Start doing research
Once you have an idea of the location and how you want your day to look, now it's time to start bringing that vision to life. My favorite tool for daydreaming is Pinterest. There are numerous inspiring ideas that other couples have created for their day. Ideas for ceremony alters, mountain ceremonies, and smaller receptions/dinner parties are just a few examples. I have an entire Pinterest dedicated to this inspo, check it out here!
Starting to day dream and see how your elopement day could look will really help pull everything together.
4.Find your vendors
First, make a list of all the vendors that will be important for you to have at your elopement. Then label them from most to least important. I've said it once and I'll say it again, this can be exactly what YOU want, dont worry what other people have done. You can have all the vendors or none at all. With elopements, you want to find people who you can connect with and trust. Don't just make them a check on your checklist.
I'd recommend either hiring your elopement photographer (oh hey!), or an elopement planner first and foremost. This is most likely your first time getting married. But both elopement photographers and planners have helped and witnessed several elopements, so they can be a guide along your planning journey.
5.Create your budget
Building a budget can be before or after you start talking with your vendors. However, I'd recommend at least coming up with a rough maximum budget beforehand. Traditional weddings in the US on average cost around $34,000. With elopements, they can be as extravagant or inexpensive as YOU want them.
My biggest piece of advice is find out what's most important to you and focus your budget on those items/vendors. As a simplified answer, the cost of an elopement can be anywhere between $5k-$30k. These numbers truly depend on what is important to you, the type of experience you're hoping for, and the most critical vendors in your mind. In general, most of my couples spend between $10-20k total for their entire elopement experience.
6.Decide the traditions you want to keep or make
Think about the traditions of a wedding that you may want to keep, or even create your own! Have your father walk you down the mountain. Or have your musically talented cousin play you a song. Have some fun with it!
Once you have all these favorite things, this is where I, as an elopement photographer, love to step in and help out where I can.
This is one of my favorite things about elopements - your vision and dreams can 100% be a reality. Don't think any dream is too out of reach.
---
Epic Adventure Elopement Ideas
The types of activities and events that you can do on your elopement experience are endless. It can be right in your backyard, or you can fly somewhere new for an adventure. This list will help you get the ideas flowing. You don't need to re-create any of these, but instead build out your very own, special day.
Go hiking or be in the mountains
If you grew up in the outdoors, then a mountain elopement could be for you. This could be a mountain right in your own state, or it could be one you've been dreaming of accomplishing. Most couples hike in their regular hiking clothes, then get changed at the top!
Don't want to hike? That's ok. There are plenty of mountainous locations in the world that you can easily get to by car. Take a look at this mountain elopement in New Hampshire - and you can drive right up to the top of this mountain!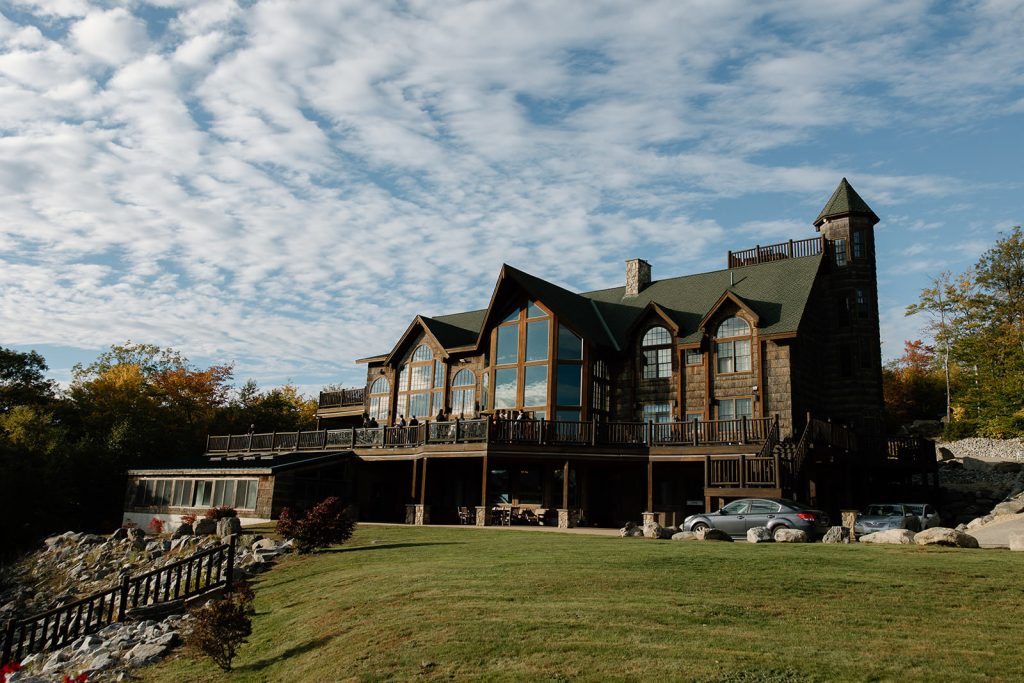 Rent a unique accommodation and have a cookout
There are so many cool accommodations out there to rent out for a weekend and make a full few days out of your wedding celebration. Look up places like Aframes, mini castles, glamping tents and more. You and your closest family and friends can all have the most unreal weekend cooking out and eating s'mores underneath the stars.
Create a full picnic for you and your families
After having your ceremony at a beautiful location, have a full picnic set up for you and your closest people to share together. These can be extravagant or simple, whatever you feel like is most "you". If you decide to go the extra mile and envision a stunning picnic setup, I'd highly recommend reaching out to an elopement planner and stylist!
Go skiing for the morning then say I do with a mountainous backdrop
If skiing or snowboarding is up your alley and something you two love to do together, then incorporate it into your day. Head on the slopes for the morning, then start to get ready to say I do on top of the mountain. It's a perfect way to do something you love, to then marry your love, all on the same day.
Rent ATVs/Ride Camels into the desert
Somewhere like Sedona, Arizona, or even Morocco (!!) you can rent ATVs and ride out to a secluded location to have your intimate ceremony. Afterwards, you'll ride out at sunset for some epic landscape scenes and photos. How absolutely rad does that sound?
Find a castle in Europe to galavant around
Castles are some of the most magical places in the world and are a perfect place to get married. There are plenty of castles out in Europe that you can rent out and stay at with your 30 closest people. What a magical day that would be. The one pictured here was in Sicily Italy. But some of my other places to find stunning castles is Wales, Scotland, Italy, Germany and Liechtenstein.
Fly to your favorite country and make a vacation out of it
This is a fun way to celebrate your love AND travel. Make an adventure out of your wedding day and have a full on vacation with your closest people, or just each other. Take a trip to Hawaii, or even cruise to Antarctica! OH, and that way, you can also combine your wedding AND honeymoon together too! Most of my couples who go international end up staying 1-2 weeks and are able to explore a new place together, while getting married while they're at it!
Spend the full day at the ocean exploring
The ocean is a beautiful place to play and have an intimate day. Spend the morning walking the beach with one another with your coffee followed by a stunning backdrop ceremony. Then you can do a campfire dinner on the beach (if permits allowed!). Some of my all time favorite ocean locations are Acadia or the Oregon Coast!
Rent a helicopter and say I do somewhere secluded
Hey - that's me and my hubby! I had this on my list when I made this post forever ago, and I can't believe I did this myself! Here's what I had said... and now I can confirm that it is just magical.
Everytime I see couples doing this, I can't help but think how absolutely unreal the experience would be. Taking a helicopter somewhere secluded to adventure around and say your vows - now that is an intimate elopement. It's also a chance to create a memorable experience that you'll definitely be able to look back on. You'll remember absolutely everything about that day!
Have a winter sport adventure (snowshoe, snowmobile, dog sled)
If you're planning to elope in the winter, this could be a fun way of making the most of the snow and cold weather. Bundle up and hire out one of these activities to get somewhere in the woods or a pretty location. Then have a picnic or dinner party set up with a campfire waiting for you.
Create a multi day adventure experience
Some of my favorite elopements have been when the couple has split their time into multiple days. Generally one day is spent with their families, their ceremony, and having a relaxed dinner together. Another day can be filled with adventuring and exploring just the two of you. I think this is one of my all time favorite ways to get married because you truly get best of both worlds. Check out Toni and Dave's epic two part wedding and elopement for inspiration!
Also, you absolutely can make this two day into an elopement AND a wedding if you are struggling to choose! Remember... #norules!
Love animals? Incorporate them into your day!
I have a lot of couples who ADORE animals. Meg and Richard in particular, absolutely love farm animals. Meg rode horses her entire life, so these two decided to go horseback riding. Sarah and Ryan also loved farm animals, so they had their elopement lunch at a farm. You can either create an activity, or we can simply just go search for them!
Go boating/canoeing/kayaking
A lot of couples LOVE the water, so enjoy incorporating a boating activity. You can either rent, buy or even find an accommodation that provides them to you. One of my bucket list elopement items is to get a packable one and hike to an alpine lake - how fun would that be?!
Play a board game
If one of your activities you love to do together is play board games, then you can totally incorporate that into your day! If you feel like you don't want your wedding day to feel like a photoshoot, I always recommend adding in some fun activities for you to do together. This can be a fun one!
Chase waterfalls and pop champagne
Waterfalls are undoubtedly one of my favorite locations for an elopement and exploring. They are magical, peaceful and just serene. A lot of my couples either choose to do their ceremony here, or have a picnic. It's the perfect place to take a break and relax for a few! Do you also love waterfalls? Take a look at my full waterfall location list.
Create a luxury dinner setting for you and your loved ones
If you love the details and showering your small number of guests with love, then a luxury styled dinner/brunch may be an option you'd love. There are some extraordinary elopement stylists out there that can transform a space into only one you can dream of (like my friend, Emma B, who designed the one above). This is a fun way to take the money you would have spent on a big wedding, and instead, put more of it on the people you love most.
Make a road trip out of your day
If you love a good campervan experience, then you should definitely rent one like Walden Campervans. You can create an adventure for your day, while also site seeing and exploring different locations. I absolutely love campervanning and the memories it can provide. You can cook right there, have a picnic, and park/stay at some of the most epic locations.
---
I hope these ideas spark some excitement in you that you truly can do whatever your hearts desire on your day. Remember, start with the things that spark joy (yes, I'm quoting Marie Kondo). Then we can see if and how we can incorporate it into your wedding experience.
A New Hampshire + Vermont based adventure elopement and intimate wedding photographer team for the adventurous souls. We specialize in New England and destinations worldwide, empowering you to create the most beautiful, adventurous day and give you the memories you'll be able to look back on for all the years to come.
---