Amanda + Nicks 2-day Elopement/Wedding in the White Mountains
Amanda and Nick had a two-part New Hampshire wedding celebration that combined their love of nature and adventure, in addition to their love of family and friends! They first had an adventure elopement day, that was just us three and their love for the great outdoors. We spent the day hiking and enjoying the beautiful scenery of the White Mountains. And then on the second day, they had their closest friends and family join them for a New Hampshire State Park wedding. The best of both worlds!
---
Adventure Elopement in the White Mountains
Nothing beats a sunrise hike, and private vows amidst the fall foliage of New England. We had the mountain all to ourselves as they enjoyed an intimate ceremony, picnic, champagne pop, and reading letters from their loved ones! It was the perfect adventure elopement in one of their favorites places.
---
NH State Park Wedding in the White Mountains
Part two of their marriage celebrations also took place in a state park in the White Mountains of NH! The ceremony took place on a beach with stunning views of the mountains and lake. Amanda did a first look with her dad just before walking down the aisle to meet her husband, and family. They exchanged vows in front of their loved ones and did a unity wine ceremony, where they shared wine with everyone!
Wedding Reception at Skiesta
After the intimate lake-side wedding ceremony and an abundance of photos, it was time to party! We headed over to the beautiful Ski Esta mansion overlooking a ski mountain in Newry, Maine. Imagine rustic cabin meets mountain top manor! It really was the perfect small wedding venue in They had snacks, watched the sunset, and had a fire pit ceremony as well! So everyone wrote their well wishes to Amanda and Nick, and then they put it in the fire. The celebration lasted well into the night, and I left feeling so so grateful to have been a part of this incredible weekend-long wedding in the White Mountains!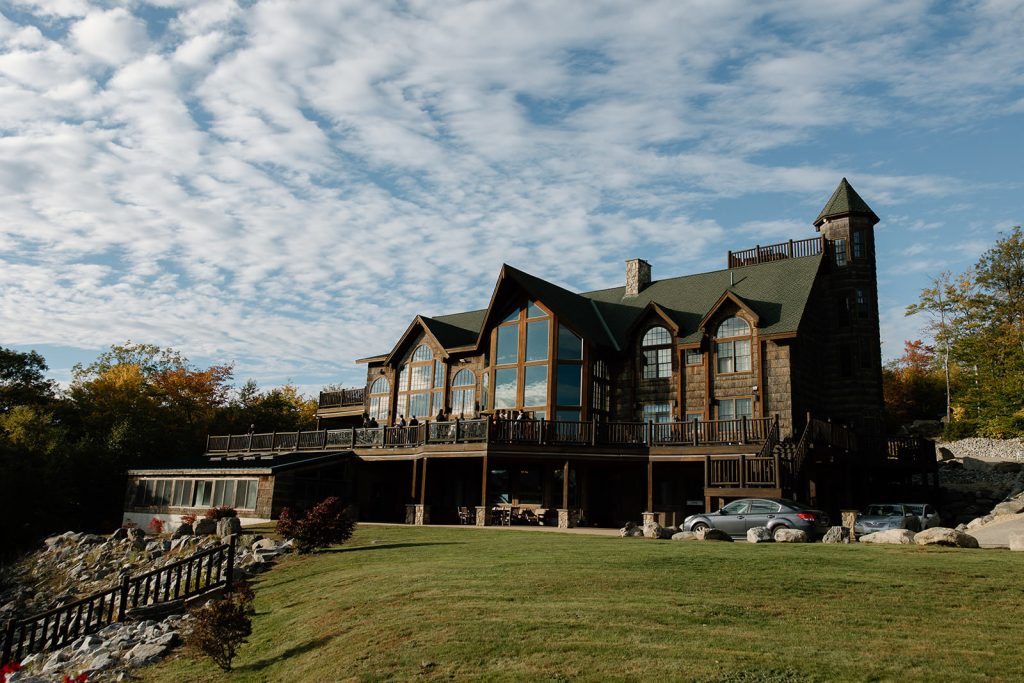 ---
How to get Married at a NH State Park
If you're planning to tie the knot in a picturesque outdoor setting, a New Hampshire state park wedding or elopement could be the perfect choice for you. With stunning natural beauty and a range of amenities, state parks offer a unique and memorable backdrop for your special day. To get married at a New Hampshire state park, you will need to sort out a few logistics!
To keep it simple, here are 7 steps to planning a State Park Wedding in New Hampshire
Find your first vendors. If you find your photographer (oh hey!) or an elopement planner first, they can help you throughout the entire elopement planning process. This includes location scouting, finding vendors, timeline planning and endless guides.
Daydream up your day. I have an awesome resource here on how to plan your elopement. Ask yourself - what would be our ideal perfect date? Write down your 10 favorite things ever. And then figure out how you can combine all of them into one amazing day? It's possible, I promise.
Choose your State Park. Once you have an idea of what you want your day to look like, then you can start looking for perfect State Park. This is also something I can help you decide! There are loads to choose from, and all have special things about them.
Obtain Permits. While the exact logistics and rules vary based on each state park, and each available location within it, most areas require a special use permit. There is often a guest count limit, as well as parking and activity regulations. Many parks also offer reception facilities or group areas to host a ceremony. You should always contact the NH state park directly to obtain up-to-date information!
Find an accommodation. When you elope, you can find an amazing accommodation for the two of you, or even something that you can throw a little dinner party after you get married. You want to try finding something sooner than later so you have all the best options.
Make it legal. The most important step is making sure you can really get married! Find out how to get a marriage license and who can officiate (keep reading below!).
Have the best day. Once your photographer or planner has built out the timeline for the day, now it's time to just enjoy it!
---
Eloping in a New Hampshire State Park
If you're looking for a more intimate and low-key affair, eloping at a New Hampshire state park could be a great option. With its rustic charm and natural beauty, a state park provides a romantic and secluded setting for your elopement. Just be sure to follow the permit application process and any other regulations to ensure a smooth and stress-free experience. Check out my guide on How to Elope in New Hampshire!
The benefits of eloping at a State Park are:
You can rent out an area, so you know no one else can be there.
There is plenty of space to hold your guests
They are generally easily accessible for your loved ones
---
When to Get Married at a NH State Park
As important as deciding where to elope is, choosing when to elope is also an important factor. When should you get married at a NH state park? The best time to elope at a state park is late Spring into mid Fall. Come late fall through early Spring, a lot of State Parks become inaccessible due to the snow! Or they have limited operating hours due to it being in the off-season. There are plenty of other amazing Winter Elopement ideas you can run with though, you're not limited to a park!
A NH state park wedding or elopement can be a wonderful way to celebrate your love in the great outdoors! As your experienced New Hampshire elopement photographer, I'm here to help guide ya through the process and make sure your day is just how you envisioned it to be!
A New Hampshire + Vermont based adventure elopement and intimate wedding photographer team for the adventurous souls. We specialize in New England and destinations worldwide, empowering you to create the most beautiful, adventurous day and give you the memories you'll be able to look back on for all the years to come.
---