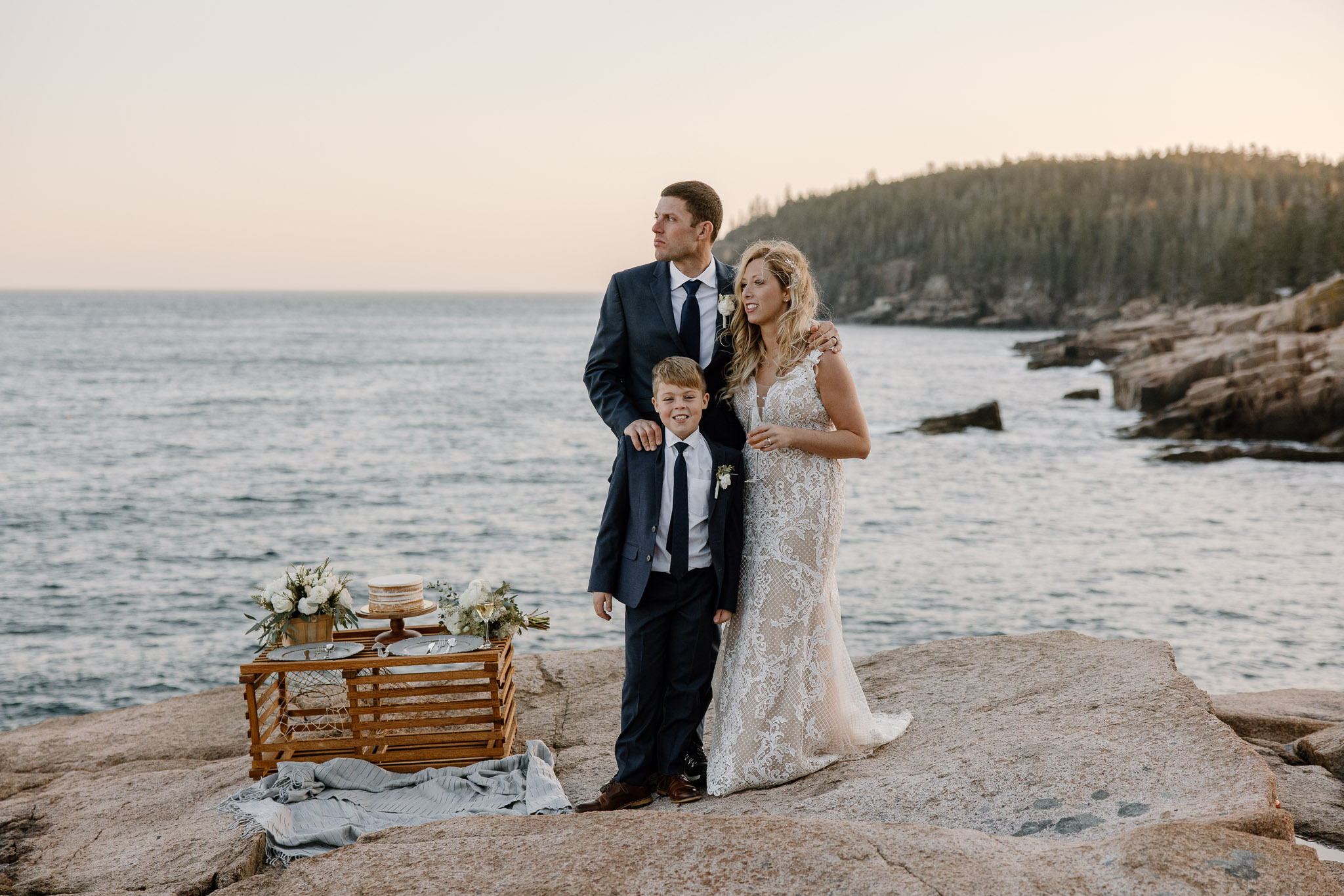 This post will give you everything you need to know about how to elope in Acadia National Park. Acadia National Park is the only National Park in New England, and it is such a special one. Plus, it is one of the easier National Parks in the United States to get married!
Growing up in New England, Acadia wasn't a well traveled location for my family and I. Now I feel lucky to travel to Acadia multiple times a year to get couples like you, married!
Just imagine this - the mountains meeting the sea. You get to drive along the coastline at all of the surrounding cliffs and views of the never ending ocean. This National Park has hundreds of miles of hiking, so there are plenty of locations to be around people, or find seclusion.
Whenever I have couples who can't choose between wanting to be in the mountains or the ocean, then I always recommend Acadia. This National Park has best of both worlds with plenty of hiking, the ocean, beaches and cliffs. So you can adventure, hike, swim and have a picnic on the cliffs all in the same day. It's no doubt one of the most magical places in New England.
---
How to Legally Get Married in Acadia: Marriage License, Officiant + Witness Information
In the state of Maine, you need a few things to make your marriage legal. Whether you are a resident of the State of Maine or not, you can get easily get married and elope in Acadia National Park. You just need a few things: A marriage license, two witnesses, an officiant, a permit (if necessary) and a National Parks Pass. Let's get into the details.
1.A marriage license
If you're a resident of Maine, you can obtain your marriage license in your home town. You two will go together as a couple. If you live in different towns, then you can just choose either one.
If you are a non resident, you can obtain your marriage license in any Maine town. It does not need to be the same town you are planning to marry in.
Once you get your marriage license, it is valid for 90 days in Maine. The person marrying you will be the one who is in charge of filing it with the town that you issued it in. Make sure whomever is marrying you knows this beforehand!
If you're getting married in Acadia, you can apply for your marriage license with the town of Bar Harbor. They have the detailed step by step instructions here!
2. An officiant
The below is from the State of Maine's website on who can marry you:
Ordained ministers of the gospel
A person licensed to preach by an association of ministers, religious seminary or ecclesiastical body
Judges or justices (residents of Maine only)
Lawyers admitted to the Maine Bar (residents of Maine only)
Maine Notaries - Search for Maine Notaries by Location or Name
Maine does not have Justices of the Peace. Out-of-state Notaries and Justices of the Peace cannot officiate weddings in Maine.
Let's break it down from a simple point of view:
Hire an officiant: You can hire someone who is from the State of Maine who is ordained minister to marry you.
If you want a friend: If you want a friend to marry you, they absolutely can. They just need to get ordained and they can do this online. I personally did mine through the Universal Life Church. If your friend is out of state, they are able to marry you and sign your marriage license without any additional special permits. I'd make sure to check the Maine marriage website to triple check just incase!
3. Two witnesses
You will need two witnesses to sign your marriage license in the State of Maine, including Acadia. If you have guests present, you can choose two people to be the witnesses and sign off. If you have no guests, it is extremely simple to find two witnesses. Generally my couples either have their vendors who are present, or we find bystanders who may be willing to sign off. I've personally never had a problem finding witnesses, so you'll be just fine!
FUN FACT: Your witness doesn't have a minimum age! So if you have kids, you can have them sign as a witness!
4. Permits
We'll get more into permits in the next section, but if you have more than 10 people attending your elopement, you will need a permit. Acadia is extremely flexible with permits, so you shouldn't have a problem. There are specific locations that you can have a ceremony with more than 10 guests, and you will need to specify the location and time when requesting a permit.
5. A National Parks Pass
You can get a day pass or a year pass right at the entrance of the National Park. I generally recommend just getting the year pass so you can go in and out of the park as you please, but also so you can visit other National Parks! The other helpful tip in getting a year pass is that you can use these passes in most National Forests as well (including the White Mountains!).
---
How to elope in Acadia National Park
There are several benefits to eloping in National Parks, but it's extremely important to do it by their rules. Those who don't follow them just jeopardize it for future couples, and the rules really aren't that hard to follow. They take a little time to research and maybe a tiny bit of money, but in general it is much more simple than planning a large wedding. Below are the steps to take in order to get married in Acadia.
1. Look into Acadia's current guidelines and permits
National Parks update their guidelines often, so it's best to triple check their website beforehand as blogs such as mine may be out of date! You can look at Acadia's guidelines and permits here.
In general, you only need a permit to get married in Acadia if you have over 10 people. If you have over 10 people, then you will need to fill out the permit form on their site along with a $50 non refundable fee.
Also look into their rules including what you can and cannot use in terms of props, Leave No Trace and staying on trail or non fragile surfaces, and more.
2. When to elope in Acadia National Park
The popular times to visit Acadia is from July-October, with August and October being the most popular months. During these times, Acadia also has restrictions for group number in certain locations of the park for weddings. I personally would highly recommend at least choosing a week day, especially if you want a more intimate setting.
Acadia is beautiful in all seasons, and they each have their benefits.
Winter - This is the National Parks off season. There will be a lot closed during this time, but will also be more secluded for a quieter wedding day. Some benefits are the windy waves, the potential for magical snow and of course, less crowds!
Spring - Things will slowly start to open back up, but depending on how the winter was, it can be very muddy on the trails. Just keep this in mind! You may also see flowers start to bloom and expect less crowds during the Spring as well.
Summer - Beautiful weather, but tons of families up for their summer breaks. Everything will be open and plenty of options for accommodations, boating and restaurants. This is definitely the benefit of coming during their peak season - everything is open! Just make sure to book and make recommendations as soon as possible.
Fall - My personal favorite in New England, along with everyone else's. Beautiful colors, weather and businesses ready to start closing up for the Winter season. Keep this in mind when looking for places to book for accommodation and for food!
TIP - you only need an entrance pass to the park from May through October! Anything passed this is completely free.
3. Make your guest list
If you're planning to get married in Acadia, then you'll probably want less than 25 guests for your elopement. That is, if you are planning to get married inside the park. Anything over that will start to become more of a wedding feel and you'll start worrying about everyone else but yourselves. Plus, you want to get married in the outdoors for a reason. The more people you have, the less flexibility you have in location.
Don't stress about this though! If you have family members who can't access the highest peaks, there are plenty of simple places to get to so everyone can be here. I can help you find locations!
Acadia also has a limited group size in their popular locations that you are allowed. Keep this in mind in case any of these locations were exciting to you.
The below is the group size numbers as of January 9, 2021.
4. Hire your vendors
Next up is finding your vendors - photographer (oh, hey!), officiant, florist, planner, hair and makeup, etc. There are some incredible vendors right in Bar Harbor that can fulfill your needs. Just make sure you are finding people who get you two as a couple, and people you know will make your experience even better. I help all my couples find the perfect vendors for their day. My goal is to make it as easy as possible!
5. Plan your perfect day
Planning your elopement day can be fun, I promise. The ideas are endless, but I created a full guide on how to create and plan your elopement day in a blog post here! Plus, if you find the right adventure elopement photographer or planner, then they can help you throughout the entire process.
---
Where to elope in Acadia National Park
There are plenty of location options and a variety of scenery for eloping in Acadia. You have the mountains, hiking, cliffs, beaches, the ocean, lighthouses and more. I absolutely love that you can enjoy the mountains and the ocean all in one day at Acadia. If you are looking for somewhere secluded, or recommendations on exact locations, you can reach out and I'd be happy to help! As an adventure elopement photographer, I help couples find the most perfect location for them that can be secluded and fulfill their vision. To follow Leave No Trace guidelines, I generally do not disclose my favorite locations in the park except to my couples.
The mountains
There are quite a few hiking locations in Acadia ranging from simple to strenuous. Depending on what you are looking for, this National Park has it. If you have family that can't hike, but you need them there, you can look into Cadillac Mountain. This is a location you can drive to up the mountain. There are also small stops with overlooks along the way. Or if you want something a little more difficult, you can look into Beehive or Bubble Rock. My biggest piece of advice is to go on AllTrails and look at all the options and find ones that may be less popular for privacy reasons.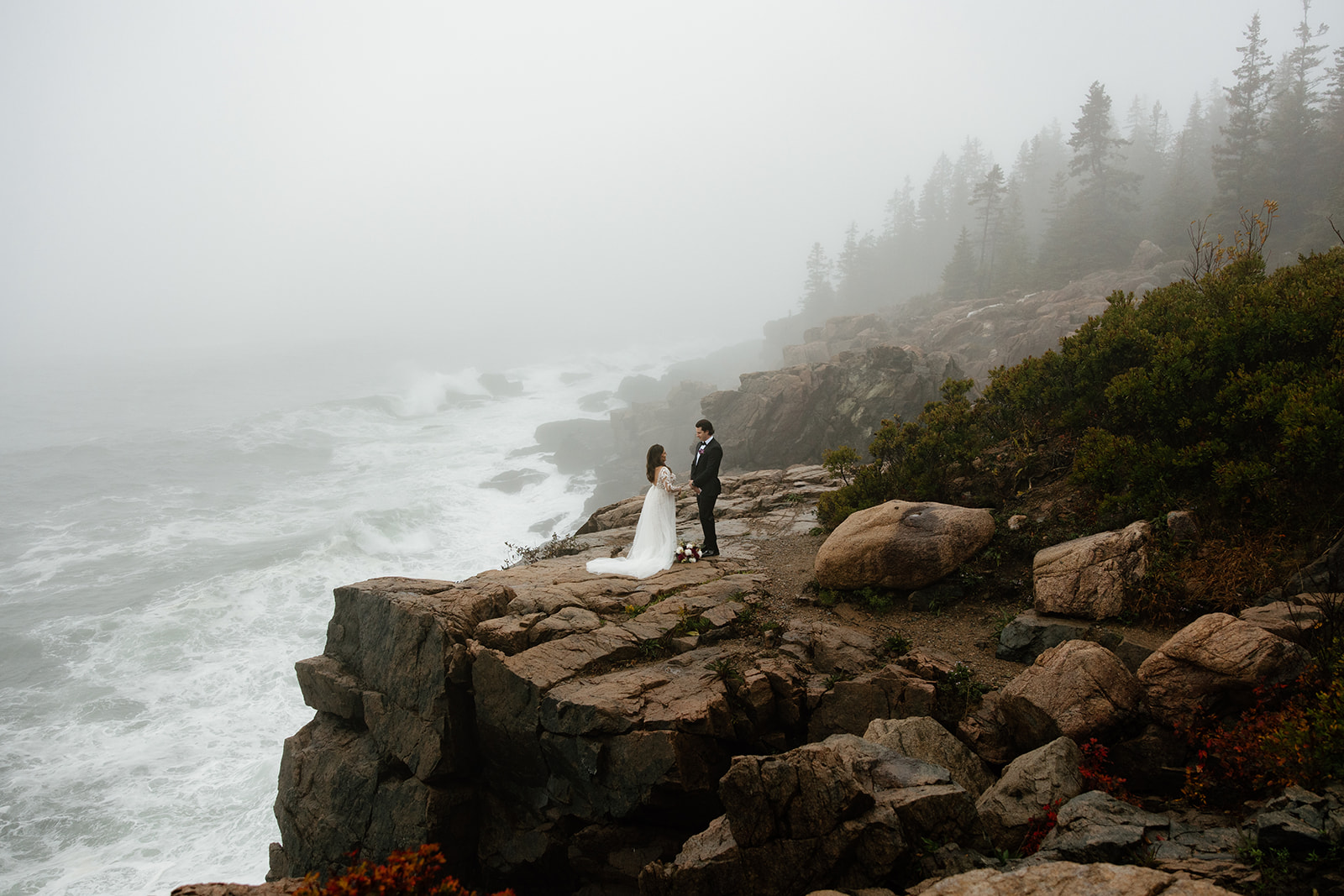 The cliffs
Acadia is basically one big loop around the Ocean. The cliff areas are endless. So while you may see Otter Point or Thunder Hole being the main locations, know that there are SO many other points beyond it. But also take note that these roads are one ways. If you go past a parking lot or a certain location, then you have to keep going. That's the downfall of Acadia. So just make sure you find your cliff location before your day and you'll be just fine!
The beaches
Acadia also has some sandy and rocky beaches, as well as coves. There is Sand Beach, Monument Cove, Boulder Beach, Hunters Beach and more. If you look on google maps, you'll find these all along the coastal road. You may even find some locations that aren't technically beaches because they don't have names, but are hidden gems!
---
Where to Stay in Bar Harbor
Depending on the type of elopement you are planning, where to stay may be different for everyone. Bar Harbor is a seasonal town with seasonal availability. You will see that a lot of locations shut down for the winter, but are in full force during the other seasons. Just make sure to keep this in mind!
There are plenty of places to stay in Bar Harbor whether it is a hotel, an Airbnb, a Bed and Breakfast and more. If you are planning a small reception, or having a small wedding, check my favorite small wedding venues in Acadia here. Here are some places I'd recommend.
Airbnb
I have an ongoing list of Airbnb's around Acadia that I absolutely love. What I'd recommend is making sure the Airbnb has good lighting, and plenty of space for getting ready and your guests to enjoy. To feel the most comfortable and to also get those beautiful getting ready photos, lighting and aesthetic will be very important. To view the list of Airbnb's I have, click here!
B&Bs
One thing to note about Bar Harbor is how freaking adorable this town is. It has shops and restaurants and some of the cutest Bed and Breakfasts around. Now, during your elopement, you may not want to spend the entire time at a B&B, but afterwards it may be nice to have that experience. And if you do, then check out the Maples Inn or Holbrook House.
Campgrounds
Some people want to rough it, which I think is super cool. If you're looking for a true adventure, then camping may be a fun option for you. You'll definitely be able to have a nice bonfire afterwards and cook s'mores. Some campgrounds you can look into are Blackwoods Campground and Seawall Campground. The other two that don't look like the most beautiful are Duck Harbor Campground and Schoodic Woods Campground (not directly on Acadia!). There is also Terramor, which is a newer glamping campground as of 2020. HOWEVER, they struggled with their customer service and I know they were trying to improve the experience for 2021. Keep up with the reviews before you book!
Hotels
And lastly, you could stay at a hotel. There is a little bit of everything in Bar Harbor ranging from fancy 5 star hotels, to lower priced hotels depending on your needs. A few higher end hotels to look into are the West Street Hotel, the Hampton Inn Bar Harbor, and the Bar Harbor Inn and Spa.
---
Leave No Trace in Acadia National Park
As a true outdoor and world lover, I have to mention Leave No Trace. And I'm assuming since you are here, you love the outdoors too! With many people enjoying the outdoors nowadays (which is AMAZING!), it is also important that we educate ourselves. We want to make sure that we can enjoy the outdoors, and so can our future humans! In simple terms, Leave No Trace is making sure you keep the land as clean and natural as possible. There are seven main principles to follow, so it's a quick read! You can learn about them on the Leave No Trace website here. Make sure to send your family and guests these guidelines as well so everyone is on the same page for your day!
A New Hampshire + Vermont based adventure elopement and intimate wedding photographer team for the adventurous souls. We specialize in New England and destinations worldwide, empowering you to create the most beautiful, adventurous day and give you the memories you'll be able to look back on for all the years to come.
---