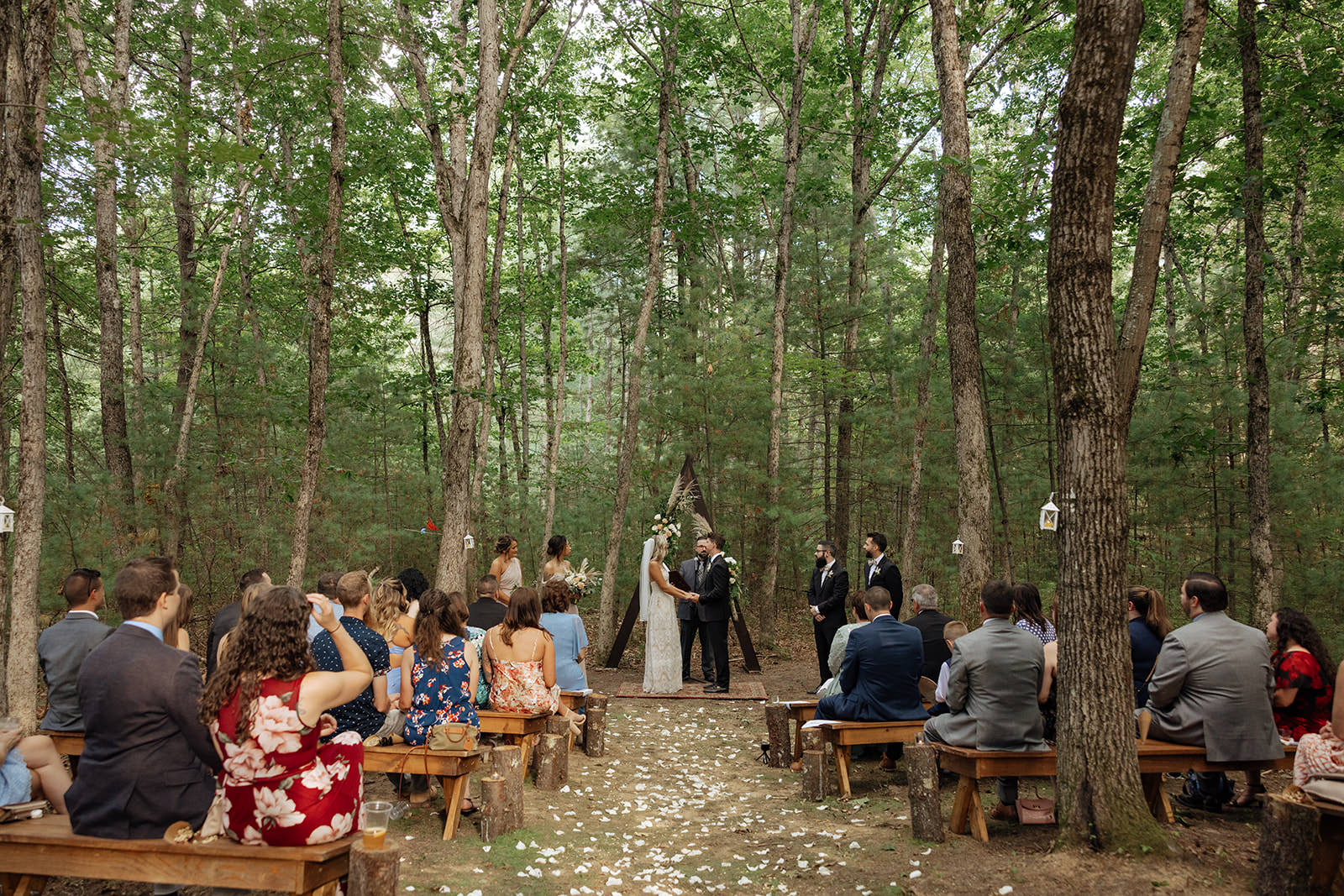 Backyard Wedding in the Woods
Toni and Dave had THE best two-part elopement/backyard wedding (okay, next to my own that is!!) They hosted a sweet ceremony in the amazing wooded backyard at Dave's sister's house! The forest was decorated with whimsical and romantic touches like lanterns hanging in the trees, wood benches, and dried flowers leading up to the floral-adorned triangle arch! They also set up a little space where people could grab rattan fans, as every Summer wedding should!! And then they also had adorable paper cones filled with seeds, and dried flowers for guests to toss at the newlyweds! There was so much intentional effort and thoughtful DIY details put into the day. Their loved ones really came together to help them make their backyard microwedding a success!
---
Backyard Microwedding Ceremony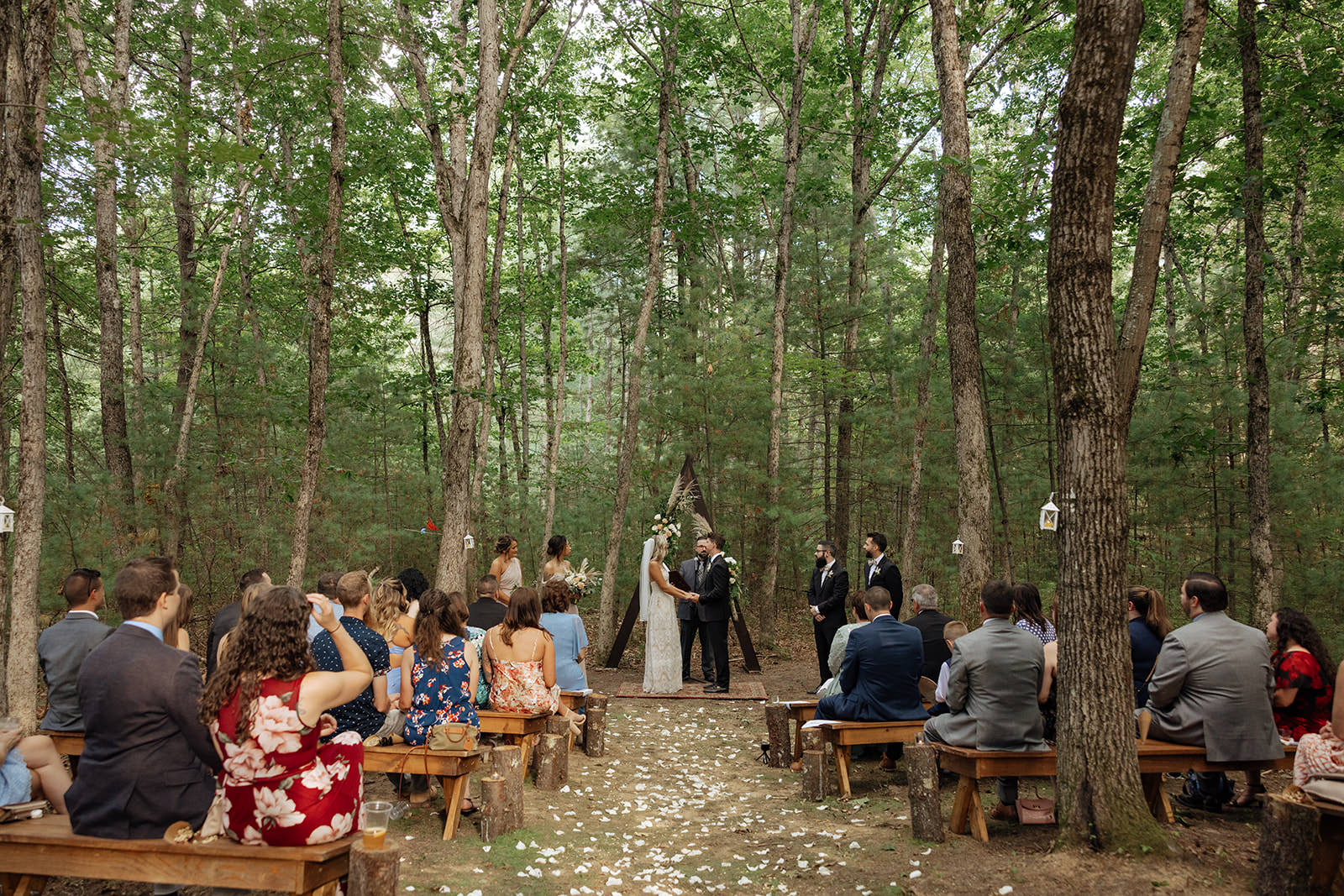 The intentional and personal touches contained into the ceremony as Dave's brother officiated, and then family members were also included in some readings chosen by the couple. Another thing I loved about their ceremony was how they included Toni's later father in the form of a red robin that was set behind her to make her feel like he was there with them. Such a sweet way to honor his memory. You can tell just how much their families mean to them in the ways they included them throughout there day. While they originally just wanted to do a private elopement, once they got engaged they couldn't imagine not having their loved ones there for at least part of their wedding celebration! Stay tuned for Part Two: Toni + Dave's Sunrise hiking Elopement.
---
Backyard Wedding Reception
For their backyard reception, Toni and Dave had an amazing setup with the help of their friends and fam! They rented a huge clear tent (perfect backup for if it had rained!) and set up tables with the most amazing boho plant theme! For guest favors, they even gave out little succulents!! They also included a surfboard for guests to sign, had a table set up for loved ones who had passed, and a DIY photobooth! The food (and DONUTS) was also a highlight!! They chose to have a small catered buffet and a mini bar of course!! For the rest of the reception, they chose to include speeches, a first dance, and then a poppin dance floor amped up by a live DJ!
At sunset, we went off in Dave's dad's vintage car for some SUPER fun and carefree golden hour portraits.
---
Top DIY Backyard Wedding Tips
Small backyard weddings aren't new, but they've definitely become more common in the last couple of years (hello 2020!) By skipping the hassle of booking a wedding venue, you get a lot more freedom in the planning process. Rather than sticking to venue restrictions, you can plan a wedding on your own terms. AND potentially save a lot of money. If you have the space in your backyard (or a friend/family member's) then it might be a good option to consider. OR, you could look into rental property options that allow small events like some Airbnb's or VRBOs!
Here are a few tips for planning a backyard microwedding:
Don't be afraid to DIY
Have fun with it and DIY whatever you can! Whether it's designing your own invites, making the bouquets, or building benches! Have craft nights with your people, including your loved ones in the process of creating your day. And if you don't have enough of the necessities, and don't feel confident in building them you can rent things like tables, chairs, restrooms, and decor! You can also find plenty of wedding decor and furniture in online wedding resell platforms like Wedding Recycle or Facebook marketplace! AND you can resell it afterwards! OR include it in your home/backyard!
Find vendors you trust.
If the idea of DIYing everythinggg is too much, you won't regret hiring the professionals! Perks if they have experience working with backyard weddings! Be sure and communicate this to everyone as it may alter the way they usually work. Give us much information as you can, as the logistics can be quite different than working at a venue. Don't be shy about asking around for recommendations from those who've had their own wedding, or who work in the wedding/event industry! Chances are vendors like your photographer may have some tips and recommendations with other vendors they've worked with in the past!
Have a multi-day wedding
You don't need to settle for just one day! If you love the idea of eloping with just you two, but also want to find a way to include family: have them both! I did this with my own elopement/wedding and have no regrets. You do not have to do either or. It may seem like double the work, but you might find that in the end it relieves the pressure from just having ONE day to celebrate your marriage! And if you have a supportive community and experienced vendors, hosting a backyard wedding or intimate microwedding doesn't have to be a headache! If you're not sure where to get started head on over to my guide on How to plan a backyard wedding for more tips and ideas!
---
Backyard Wedding Inspo
Planning a backyard wedding can come with it's own set of overwhelm. However, sticking to your vision and delegating tasks can make the experience much easier! Remember to give yourself enough time to enjoy the process, and not worry about what other people think. It will absolutely be worth it in the end!
I hope this guide on how to plan a small backyard wedding helped in some way! Head over here for more of my wedding and elopement planning tips, and be sure to follow me on Instagram for more behind-the-scenes look at intimate weddings! Happy wedding & elopement planning!
A New Hampshire + Vermont based adventure elopement and intimate wedding photographer team for the adventurous souls. We specialize in New England and destinations worldwide, empowering you to create the most beautiful, adventurous day and give you the memories you'll be able to look back on for all the years to come.
---