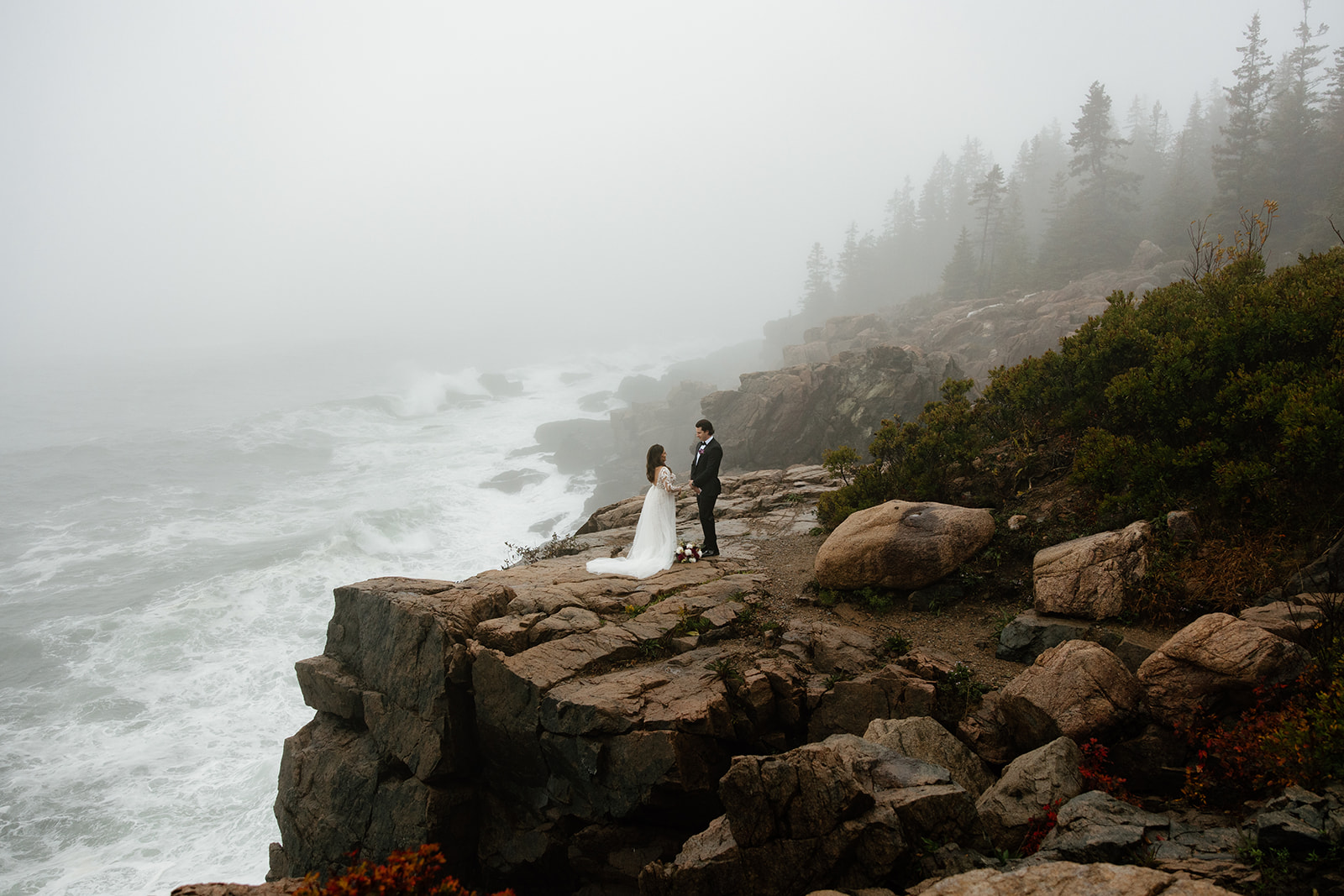 Eloping in New England is one of the most beautiful ways and places to get married. I have a ton of locations up my sleeve right here that are the best places to elope in New England, and this blog post is going to help inspire you and your day. In all the states - New Hampshire, Maine, Vermont, Massachusetts, Rhode Island and Connecticut - we have it all.
Not sure what an elopement is, especially in 2023? There are several ways you can elope. Whether it's an adventure elopement in the mountains, or you book an airbnb to have it at with your closest 25 people. Ultimately, if a bigger wedding just doesn't feel 'you', then don't do it! You can still make it even more special than what you ever imagined.
But you are here because you are trying to figure out where to elope in New England or even just on the east coast. If you are looking in the outdoors, then I got you. The best part of eloping is the freedom to be able to get married outside. Literally, these outdoor venues are mostly FREE. Yes, free. Sometimes you'll need a permit for $150, but... I think that's doable rather than spending $15,000. The feeling of being in the outdoors on your day is like no other. I get chills just thinking about it. I honestly can't wait for you to experience it.
So let's get into it! Here are some of my favorite places to elope in New England.
---
Best places to elope in New Hampshire
If you look through my site, you'll quickly realize one of the locations that I specialize in - and that is New Hampshire. I may be biased, but it is my favorite place to elope in New England. I absolutely love this state that I grew up in, and now live in. I personally live up here in the White Mountains, and this is where I absolutely LOVE to be. We have some of the most beautiful mountain ranges in New England along with waterfalls, lakes, and even a tiny coastal part on the ocean. There are so many places to elope here and I can help you find the best spot for you.
Read more: Best Places to elope in New Hampshire
Elope in the White Mountains
The White Mountains is one of New Hampshires hot spots, especially during leaf peeping season (late September - mid October). It is home to the largest mountain in NH, Mount Washington, and some of the most stunning views in the east coast. There are hikes that range in mileage and elevation, waterfalls, and lakes to do a trash the dress in. If you are looking for an adventure elopement, then the White Mountains are an incredible option that will give you a good variety of landscapes. Some of the most popular destinations are Cathedral Ledge, Artists Bluff and Mount Washington. But don't worry, I have wayyyy more locations up my sleeve for a more intimate and private experience!
Elope in the Lakes Region
The Lakes Region is a one of a kind place (and is where I grew up!). It has stunning views of the lakes with the mountains off into the distance. If you are looking for a hiking adventure, or even just a nice lake view, the Lakes Region can offer you either one. There are also plenty of smaller venues if you end up wanting to have a dinner party with your families. This would be a great place to rent an Airbnb to host your loved ones and do everything in one place!
Elope on the Seacoast
The Seacoast in New Hampshire has beautiful beaches, rocky jettis and secluded parks to say I do at. If you love the ocean and want to stay in NH, then the Seacoast may be your best option. Check out Portsmouth, Rye and other small towns along the coast. And if you aren't married to New Hampshire, then you could also quickly hop over to Maine or Massachusetts for their coastal views!
---
Best places to elope in Maine
Ok I LOVE Maine. There is so much I need to explore in this state, because it is actually massive. You could go North to Baxter State Park, or right over the border of NH in Grafton Notch State Park. But of course, my all time favorite is Acadia National Park. There are locations everywhere in Maine for an elopement. You can get the coastal ocean views, waterfalls or mountains. The location I specialize in and know like the back of my hand is Acadia National Park.
Read more: Top locations to elope Maine
Acadia National Park
It's always funny to me that people from New England have been to several National Parks in the US, but seem to miss the one in our home. Acadia National Park is one of my favorites because you get the mountains, beautiful hiking, the ocean, rock cliffs, and an adorable town all in one. There are so many places in Acadia to elope whether you want something simple, off the beaten path or even a longer hike for a secluded location.
Read more: how to elope in Acadia National Park.
Grafton Notch State Park
I like to call Grafton Notch State Park the White Mountains step sibling, because it is a state park that is definitely not as popular as the White Mountains, yet arguably just as beautiful. There are strenuous and simple hikes with incredible views and waterfalls. There are skiing mountains as well if you want a winter elopement!
Coastal Maine
If you don't know, now you know, but Maine is basically one ginormous coastal state. There are tons and tons of towns right along the ocean with epic views that you can elope at. If you want a beautiful ocean view, check out Kennebunkport, Camden, Cape Elizabeth or even Cutler (hidden gem!). If you want to add some adventure to your day that doesn't include hiking, think of hiring a private boat to go out to sea, have a lobster dinner or picnic at the beach.
Click here for this beautiful Portland Maine Lighthouse elopement.
---
Best places to elope in Vermont
My neighboring state that I genuinely love, yet need to drive over to a lot more often. Vermont often gets missed on New England road trips, but I promise you it shouldn't. In all seasons, Vermont has adorable towns, beautiful mountains, waterfalls and more. This is a great state to elope in. Read on how to elope in Vermont here.
We have a local Vermont elopement photographer (meet Amber!) who is constantly exploring her home state. She has allllll the hidden gems to make sure you have seclusion.
Green Mountain National Forest
The Green Mountain National Forest is a massive national forest throughout the southern and middle part of Vermont. It's home to beautiful hikes with mountain views, waterfalls and lakes. It's also close to the Finger Lake Mountains in New York. If you're looking to make a full experience and trip out of your elopement, then this place could give you a solid trip.
Mount Mansfield State Forest
To the east of the popular city of Burlington is Mount Mansfield State Forest. There are a variety of state parks located within the State Forest such as Underhill State Park, Smugglers Notch State Park, Little River State Park, and Waterbury Center State Park. There are also ski resorts located within the State Forest if you are looking to have a nice winter elopement!
Killington
Killington is known to be a ski resort area, so it absolutely can be an amazing winter elopement location. However, in the other warmer months, there are plenty of things to do in the area - including hiking to those mountain views.
Lake Champlain
I've had two intimate weddings now at Lake Champlain, one in the north and in the south. The beauty of this lake blew me away, especially being from Lake Winnipesaukee! There are plenty of parks for your elopement, along with fun adventures right on the water.
---
Best places to elope in Massachusetts
I lived in Massachusetts for 12 years throughout college, so I'm quite familiar with the different parts of the state. It's personally not my first choice, but mainly because I just hate driving down there! However, you may love to elope in Boston if you love the city, or Cape Cod or the North Shore if you love the ocean. You can also head out to the Berkshires where you'll find waterfalls, mountains and beautiful woodsy scenery. I generally recommend the coast if you want a desert or rocky feel!
Our photographer, Amber, lived out in the Berkshires for years and continues to specialize in this area if you're looking for a photographer!
North Shore
Personally, I am a big North Shore girl. There are so many incredible locations in Northern Massachusetts that are just waiting for you to elope there. Generally the North Shore is known for its beach vibes and small towns. Look into the areas of Rockport, Ipswich, Newburyport or Manchester-by-the-Sea. These towns have beautiful beaches with white soft sand, beach grass and easy to find more secluded spots to have an intimate ceremony.
South Shore
The South Shore, or I guess I would even say Cape Cod, has a number of beautiful beach places as well. Not only that, but in Provincetown or Wellfleet, you can even elope in the Sand Dunes - something that no where else in Massachusetts has. Some of my favorite locations down in the South Shore are Provincetown, Chatham, Falmouth, and Scituate. Not only that, but you could even take the boat over to Martha's Vineyard or Nantucket and really make it an adventure!
Berkshires
If you are trying to escape the beach and ocean scene, then the Berkshires is where you'll want to go. This is a mini white mountains with beautiful mountains, hiking, waterfalls and adorable towns to celebrate in. There are also some very cool accommodations to stay in while you are there to make your day extra special and unique!
And if you can't find anything in the Berkshires you love, the Catskills directly to the west over the boarder in New York is a great option.
Boston
Of course we have the wonderful city of Boston on this list. Boston city elopements can be super fun. Get married right at city hall then go galavant the city. Take the train somewhere new, wander around the Seaport, picnic on the Charles River, go brownstone gazing in Beacon Hill. There is just so much to explore in the city and if you're from there, it could be a nice way to celebrate this next journey in your lives.
---
Best places to elope in Rhode Island
Rhode Island is the smaller state in New England that is known for its coast and ocean views. You can simply fly into Providence or Boston and get anywhere here in less than two hours. Rhode Island would be a perfect place to elope in New England if you want to be by the ocean as it has islands and plenty of coastline.
Block Island
If you are looking for more of an ocean feel for your adventurous elopement in New England, then in general, Rhode Island may be one of the places to look. Specifically though, Block Island is incredible. Take a ferry to this secluded island to stunning cliff views and explore around the area for an all day adventure.
Newport
Newport is a very well known small city on the coast of Rhode Island. It is the most adorable town, but also has the cliffs and historic mansions. You could even rent a sailboat and get married ON the ocean, or at least go for a ride for a sailboat picnic. There are so many amazing options in Newport to make an epic elopement day.
Brenton Point State Park
I went to Brenton Point State park for a family session and was blown away with how big and beautiful it is. It has fields, rocky areas meeting the ocean, and other beautiful ocean grassy areas. If you're looking for something a bit more simple and can find seclusion, this state park could be a great option.
---
Best places to elope in Connecticut
Connecticut is a perfect getaway for those trying to elope from NYC or New England. A lot of people don't think there is any type of outdoors life in Connecticut, but there are some stunning State Parks and even a location on the Appalachian Trail. There are plenty of locations to elope in Connecticut!
Rocky Neck State Park
Rocky Neck State Park has a variety of areas to elope but also have a beautiful picnic setup for the two of you. Sandy areas, marsh views, trails and picnic areas, it would be such an adorable place to say I do. But also, you can rent out pavilions or areas to have a little reception if you wanted to invite up to 25 members of your family.
Kent Falls State Park
This beautiful State Park has a stunning waterfall if you're a waterfall chaser. I personally love them, and think they are such a magic place to commit to one another. And it's one of the highest waterfalls in the state! I personally never realized Connecticut had this type of beauty.
Rand's View
This beautiful location is gorgeous meadow along the Appalachian Trail. So yes, it is a small hike to get there, but you'll be met with a full view of the Berkshire mountains. This is a stunning spot for a nice secluded ceremony and picnic set up to enjoy the views beyond you.
---
There you have it! A starting point on where to elope in New England. You may even want to do a fun New England road trip, and this is a great place to get you started. If you're wanting to elope in New Hampshire, Maine, Vermont, Upstate New York or the Berkshires in Massachusetts, please reach out to us!
A New Hampshire + Vermont based adventure elopement and intimate wedding photographer team for the adventurous souls. We specialize in New England and destinations worldwide, empowering you to create the most beautiful, adventurous day and give you the memories you'll be able to look back on for all the years to come.
---