The Differences Between an Elopement and a Wedding
Whether you're dreaming of a grand celebration or an intimate affair, there's no wrong choice when it comes to deciding how to tie the knot.
Understanding the distinctions between weddings and elopements can help you make an informed decision that aligns with your preferences and creates a memorable experience for your special day! If anything it will give you and your partner clarity and CONFIDENCE in the decision you make, knowing you explored all avenues. In the end, I hope you go with the choice that speaks to your heart and makes you even more excited to get married!
In this blog we'll explore the differences between elopements vs weddings, highlighting the unique benefits of each.
---
What is an Elopement
So what is an elopement? My Definition of an Elopement is: An elopement is a meaningful, personal and intimate experience created specifically for you and your partner to celebrate your journey together. That looks different for each couple I serve. Whether it's an outdoor adventure experience or a private ceremony with a few friends, it has a lot less, and a lot more than a traditional wedding day.
Here's a breakdown of how we at KCP define the event in terms of how many people will be there.
Elopements: 0-20 guests
Small wedding: 20-50 guests
Traditional/Big Wedding: 50+ guests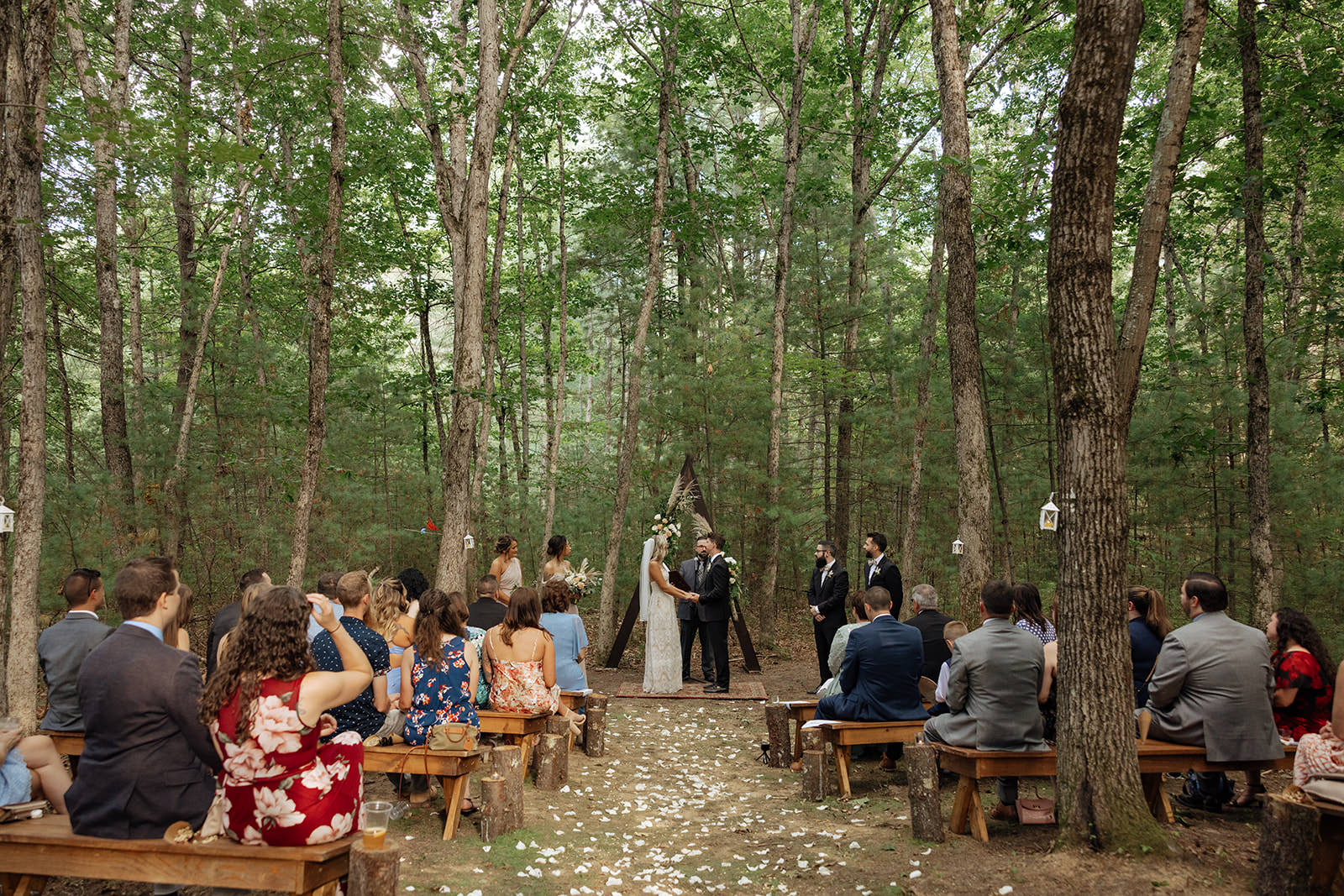 What is a (Big) Traditional Wedding
A big traditional wedding day is typically a grand affair, involving a significant number of guests and multiple events throughout the day. This involves a very rigid timeline to adhere to. It typically starts with the preparations, including hair and makeup for the bride and groom, getting dressed in elegant attire, and capturing beautiful pre-wedding photos. The ceremony itself is often held in a religious or ceremonial venue, with the couple exchanging vows in front of a large audience. Following the ceremony, there is usually a reception where guests indulge in a catered meal, raise toasts to the newlyweds, and enjoy hours of dancing and celebration. Traditional elements such as cutting the wedding cake, tossing the bouquet, and the first dance are also part of the festivities. Read about the Wedding Traditions I Recommend You Reconsider.
Here's a breakdown of the key differences between Elopments vs Weddings:
Timeline
Guest count
Activities
Cost
STRESS
The Experience
---
The Benefits of Eloping
Elopements vs Weddings If you're wondering is Eloping a bad Idea? I've got a whole blog going over the Pros and Cons of having an elopement
Allow you to spend more time with your significant other.
Eloping offers the benefit of allowing you to spend more quality time with your significant other. Instead of dedicating the entire day to getting ready for a traditional wedding, eloping gives you the freedom to use that time to do something fun together. Whether it's exploring a new city, going on an adventure, or simply enjoying each other's company, eloping allows you to prioritize experiences and create lasting memories as a couple.
Invite only the people you truly want there, not those who you HAVE to invite.
Because you're having something smaller, you won't need to invite family members you haven't talked to in decades. The day includes only the people who you would want by your side for the rest of your life.
Embrace experiences over things.
Large weddings have become all about showing off. We have commercialized a celebration of our next journey together, instead of realizing what's important - which is each other. It's not about making sure the guests have fun, or the decor looks perfect. It's genuinely about the two of you, spending time with one another, excited about this next step in your lives.
Spend money on what's important.
I know I expressed experiences already, but a big thing to talk about is money. A lot of people think having an elopement is a cheap way out of getting married, but it doesn't need to be. This is still your wedding day. Elopements are intentional because the couple wants to spend more time with the people they love and go the nontraditional route. This doesn't mean it needs to be cheap - it just means you are spending money on what's important to you. You know, not like $3 per knife for 200 people. According to The Knot - the average wedding in the US is $30,000 for an average guest list of around 117 people! Check out my blog on How Much it Costs to Elope in 2023
Less stress.
I'm sure you've heard it since I hear it ALL THE TIME. You know, the "I cannot wait for this to be over already" saying. Yeah, it's because wedding planning can be really stressful. With elopements and intimate weddings, there can be way less to take care of, and fewer people to worry about. Planning and the actual day can be way more exciting.
A bigger bucket of options with locations.
When you have a smaller wedding or elopement, the options of locations are pretty endless. When you have a 50+ person wedding, you pretty much have no choice but to do it at a wedding venue or a bigggggg backyard. If you are an outdoors lover and want to get married somewhere you feel alive, then an elopement may be the direction you go in.
Elopement Planning Resources
If you're on the fence about if Eloping is a Good or Bad Idea - I have plenty of resources to help you decide!
How Much Does it Cost to Elope in 2023
Top 17 Places to Elope in the US
Ultimate Guide to Planning an Airbnb Elopement
How to Choose your Elopement Location
---
The Benefits of Having a Larger Wedding
Get to spend time with all loved ones that you may have not seen in a long time.
Having a bigger wedding may be the right choice for you if you value spending time with all your loved ones, including those you may not have seen in a long time. A larger gathering allows you to reconnect with family and friends, catching up on each other's lives and creating lasting memories together. It's an opportunity to have everyone you care about in one place, celebrating the joyous occasion of your marriage.
Get to have a big party with everyone. Dancing, eating, and good times.
Another benefit of a bigger wedding is the opportunity to have a grand party with everyone. Dancing, eating, and enjoying good times with a large group of people can create an energetic and lively atmosphere. It adds to the celebratory nature of the event, creating a sense of shared joy and excitement that can be truly unforgettable.
You can have a more traditional wedding experience like everyone else.
Having a bigger wedding also allows you to have a more traditional wedding experience, similar to what many others have. If you appreciate the customs and rituals associated with weddings, a larger gathering provides the perfect setting to include these traditions. From exchanging vows in front of a large audience to cutting the cake and having a first dance, a traditional wedding can create a sense of familiarity and connection to cultural practices. If you love those things, that's awesome and you should do them!
Your family may be happier.
Lastly, having a bigger wedding may make your family happier. Your parents, grandparents, and other close relatives may have envisioned a grand celebration to mark this milestone in your life. Seeing their loved ones gathered together, witnessing your union, and sharing in the joy can bring immense happiness to your family members. It can be a moment of pride and fulfillment for them to see you surrounded by the love and support of all your family and friends.
Wedding Planning Resources
7 Tips for A Relaxing Wedding Day
How to Plan a Backyard Wedding
Small Wedding with Bigger Reception Guide
Best Elopement and Small Wedding Venues
DIY Backyard Wedding Microwedding
Wedding Traditions I recommend you Reconsider
A Wedding First Look: Pros and Cons
Sustainable and Eco Friendly Wedding ideas
---
The Benefits of Doing Both!
If you're stuck on deciding between an elopement vs wedding, there is a third option to consider.
You can do BOTH!
Splitting up your wedding days into two events can give you a lot more freedom and time. Not only do you get to spread out the timeline and relax, you get to really be present with those around you. Big traditional weddings are notorious for speeding by in a flash. Couples often complain about missing out on seeing all of their guests, not getting time to SIT and enjoy their meals. OR feeling like the day is a big rush to stay on the timeline.
Often times the burden of planning a wedding for others becomes the focus, as opposed to creating a day that reflects you as a couple and your upcoming marriage. We can speak on this from our very own experiences (along with tons of our couples doing the same). Both Caroleanne and I eloped with our partners, then had a mini celebration a week later with our loved ones. It is honestly the best of both worlds and we cannot recommend it enough.
Here's a short list of the benefits of having a separate wedding ceremony and reception:
There are a few variations you can choose from
Splitting up your day
Having multiple days
Having a private ceremony, and a bigger reception
Benefits of Multiple Wedding Days
You get more time to relax. From getting ready slowly to taking the whole day to explore a national park, to getting a whole weekend dedicated to celebrating! The freedom is yours to make the wedding best suited to you and your partner's values and personalities.
You get to create unique experiences. You're not tied down to traditional wedding venues and timelines. This means you can create two totally different days if you want. From an adventure elopement in the mountains to formal reception on the beach! Not everything has to be in the same location
You get to include more people. If you're dreaming of a hiking elopement, but really cherish your disable grandparents and want them to be a part of your wedding; or have so many friends that you want to party with, this is a great alternative. You can have the best of both worlds!
Each day, you get to be present. This is my favorite thing to see of my couples. Watching them have the most epic stress free just the two of them. THEN all their stress or anxiety is completely gone by the time they enter the events with their loved ones. In their minds, they know they already had the most perfect day. No matter what happens, no one can take that away from them.
Read more on this in my blog on Small Weddings + Big Receptions
---
How to choose which one is right for you
Deciding between eloping and having a traditional wedding is a deeply personal choice.
It involves considering what kind of experience you and your partner want for your special day. If you value an intimate, personalized, and potentially cost-effective experience, eloping might be the right choice for you. However, if the idea of planning from scratch with no set rules seems daunting, or if including a large group of family and friends in your celebration is important to you, a traditional wedding might be more suitable. Either way, communication, flexibility, and consideration of your own desires and values are key in making the best decision for your unique circumstances.
Check out more of my Elopement Planning Resources and please reach out if you have any questions or eloping!
A New Hampshire + Vermont based adventure elopement and intimate wedding photographer team for the adventurous souls. We specialize in New England and destinations worldwide, empowering you to create the most beautiful, adventurous day and give you the memories you'll be able to look back on for all the years to come.
---