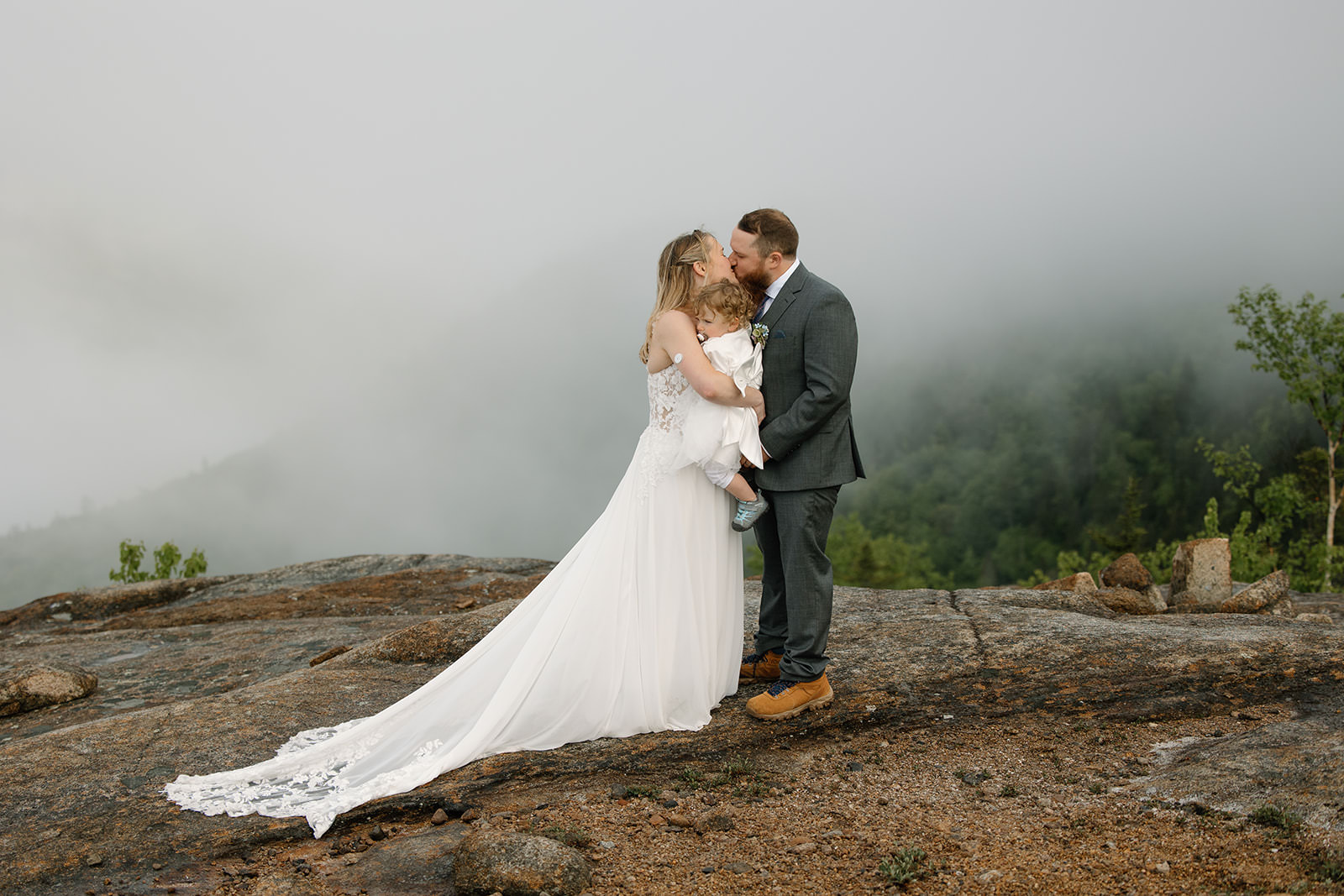 You're here because you're hoping to find out the big question of the year: How much does it cost to elope?While there are loads of resources available for traditional wedding planning online now, not a lot is said about budgeting for an elopement! But we're here to change that!
With my experience of helping over 100+ couples elope, plus eloping myself, I know a thing or two!
In this blog post, we'll explore the costs associated with eloping, how to prioritize your needs, elopement ideas and inspo!
---
Elopement vs. Wedding cost
Are you considering eloping instead of having a traditional wedding?
Many couples choose to elope for a variety of reasons, including cost. But is eloping really that much cheaper than a wedding? And how much does it even cost to elope?
The average traditional big wedding in the US can cost upwards of $30,000, where as the average elopement cost is between $5,000 and $15,000.
Having an elopement used to be just a cheap and quick alternative to get married (think shotgun marriage type of deal). But I'm sure we all know by know eloping is not that anymore.
Here's how I define it: An elopement is a meaningful, personal and intimate experience created specifically for you and your partner to celebrate your journey together.
An elopement purposefully ignores the hubbub of a traditional wedding. It takes a lot of courage for a couple to go outside of the norm and choose to elope. There's a lot of pressure when it comes to planning a wedding, and sometimes you can lose track of what the day is about. An elopement can truly remove some if not all of that stress and allow you to focus on the excitement of marrying one another. To me, it's really up to YOU to make your own definition of an elopement - if that's the route you're choosing! The main thing to remember is; this is your day to make all the decisions - whether that be to go the tradition route or not!
How much does it cost to elope?
Now to get into the nitty gritty of how much elopements cost.
According to Brides.com eloping costs an average of $15,000 in the US. But that is totally dependent on several factor just like a wedding.
Technically you can elope and only have to pay a small fee for a marriage license and then you're married. However, an elopement day can and SHOULD be so much more than that.
Having an elopement doesn't necessarily mean you're going to pinch every penny. But rather, couples are choosing to elope so they can create a unique and personal wedding day that breaks from tradition. The freedom of an elopement allows couples to use their budget towards experiences rather than things. While it is totally possible to spend less money on an elopement than a wedding, that really isn't the point anymore.
From my experience with 100+ couples, and from having my very own elopement, here is the average cost breakdown of what you can expect:
Accommodation: $100-$350+ per night
Attire: $250-$1,500 for dress, $100-$700 for suit
Officiant: $400-$800
Food: $100+ per person
Photographer: $5000-$10,000
Florist: $150-$500
Hair & Makeup: $150-$500
Fun activities (helicopter, horsebackriding, etc.): $300-$1,500
TOTAL = $6,300-$15,000
Here's a breakdown of the cost factors to consider for eloping:
Vendors
While fewer vendors are typically involved in an elopement than in a wedding, this is still a huge portion of the budget. Since you won't be needing a huge quantity of vendors you can really prioritize quality folks you trust! Common elopement vendors include: photographers, videographers, florists, hair/makeup, elopement planner, and whoever you need to make your day match your vision!
Elopement photographers: $5,000-$10,000
Hair: $100-$500
Makeup: $100-$500
Planner: $1000-$4000
Officiant: $400-$800
Venue
You can definitely book a venue for your elopement, and if you are having guests it could be the best way to go. If you want an intimate wedding or elopement but don't want to deal with all the logistics, hiring an elopement planner to help you narrow your needs can be really beneficial! They can help you determine the best route for choosing where to elope and how to make your vision come to life! Elopement venues range from $1000-$5000 depending on the area and what's included in the package.
Travel
Includes transportation costs for you two and any guests you may be bringing as well as lodging expenses (flights, rental cars, gas, etc.) For a small elopement, these costs may be reduced or MORE if you are planning a destination elopement with an additional nights stay. This could cost between $500-$1000 per day depending on your needs and how far you're going.
Food
While catering is typically 30% of a traditional wedding budget according to the Knot, you are less likely to spend that much at an elopement. Since you will have fewer people, and are not required to use venues on site caterers with all the additional fees tacked on. Whether it's a picnic lunch, or a fancy dinner in town: you have more freedom to use the food budget elsewhere! If it's just you two, then you're looking at between $100-$300 for your elopement day. PS: don't forget to feed your vendors so they stay fueled up for your day!
Guests
Are you inviting anyone to your elopement? Typically an elopement guest list is under 10-15 people, while an intimate wedding maybe be more like 15-50 guests. Weddings on the other hand average with 75-150 people in attendance! How many people you invite will greatly impact how much your total costs will be. If you're just having a small reception dinner or if you plan to bring all your guests to a destination elopement for a week: costs vary!
Activities
Adventure elopements tend to be more experience focused and may include activities such as hot air balloon rides, horseback riding, booking a 4x4, etc. Not something you'd see at a traditional wedding! You could spend $30 on a National park pass, or upwards of $1000 for a helicopter ride!
Attire
Same as a wedding, your outfit costs can range from $ to $$$. It's really up to you! Wedding dresses range from $300-$10,000, and suits go for $100-$300 rented or $500-$700 new.
Elopement details
Elopements typically include less "stuff" (physical things) like decor, props, rentals, etc. But still include meaningful details to make your day personalized (flowers, jewelry, vow books, etc.)
How much does a traditional wedding cost?
According to CNN the average cost of a wedding in the US (2023) is $29,000 to upwards of $35,000 average in some cities. It's not uncommon to attend $50,000-$100,00 weddings in places like New York or LA. Couples often have noo idea how much it costs to get married before they get engaged. It can be a real shocker once you sit down to estimate how much it costs to have a wedding! Here's a rundown of where the budget typically goes to for a wedding as well as elopements:
Breakdown of wedding costs:
Vendors
The professionals you hire for your wedding day: photography, videography, music, and floral arrangements. Costs can range from a few hundred to several thousand dollars, depending on the services required. Vendors who are experienced in the wedding industry will cost more, as well as if your wedding is on a popular weekend date. Hiring a wedding planner/coordinator will make your day SO MUCH more relaxed, trust me!
Catering: $5,000-10,000
Drinks/Bar: $1,200-$3,000
Wedding photographer: $5,000-$10,000
Videographer: $5,000-$10,000
Planner/Coordinator: $500-$5,000
Entertainment/DJ: $500-$2000
Florals/Decor: $1000-$3000
Hair: $100-$500
Makeup: $100-$500
Officiant: $400-$800
Venue
Unless you're having a small backyard wedding, most likely you will be looking at renting a wedding venue for your day. The costs vary based on the location, how private or public it is, how many guests it holds, as well as the season and day you want! Wedding venues cost an average of $12,343 and $14,006 (2023). The cost may not include additional add-ons, as wedding venue packages vary based on what's included. You can find all-inclusive wedding venues go higher into $20,000-30,000
Travel
The transportation costs for the couple and any guests, as well as lodging expenses. Costs can vary widely depending on the destination and the number of guests. Typically the couple covers immediate family and bridal party accommodations or asks for reimbursement to cover the costs of hotel stays.
Food
This includes catering costs for the wedding reception or any other meals associated with the wedding. Cocktail hour, appetizers, dinner, dessert, and don't forget drinks! Costs can range from a few hundred to several thousand dollars, depending on the number of guests and the type of food served. The average cost per person is $75-$100 per person for catering (2023).
Guests
This includes expenses associated with hosting guests, such as invitations, favors, and transportation. Costs can vary widely depending on the number of guests and the level of hospitality provided. Are you covering their travel? Plated dinners? Open bar? Gifts or wedding favors? Typically, the more guests, the more money added.
Activities
This could be things like special pre-wedding events or activities associated with the wedding, such as bachelor/bachelorette parties or rehearsal dinners. Or if it's an extended wedding celebration things like welcome brunches, day excursions like a yacht ride or wine tasting.
Attire
The standard wedding attire including a wedding dress, suit or tuxedo, and any accessories. Pricing can range from a few hundred to several thousand dollars, depending on the style and designer. The average cost of a wedding dress ranges form $1800-2000.
Wedding details
This includes any additional expenses associated with the wedding, such as decorations, stationary, furniture rentals, and additional services. This depends on included in a wedding venues package and what your style or wedding theme is. The little things ADD UP let me tell you. Those wedding favors and sineage start out at a small cost but quikly multiply eating up a lot of a wedding budget.
---
How to prioritize your wedding day needs
Be sure and get on the same page with your partner
This is KEY. Before going to your parents, or your bridesmaids, or your planner. Sit down and thoroughly discuss each decision WITH your fiancé. Even if your partner tends to wave their hands and say "it's up to you", be sure and communicate with each other first and foremost. This will ensure both of your needs are being met on your day, AND that you can both be able to explain (and defend if need be) your priorities and choices to loved ones. Especially when it comes to budget, be sure and include them in what the costs are and plan out your finances together.
Leave it to the professionals
Don't be afraid to tell your vendors exactly what you want and need from them, and then trust them to do their job. That is why you're paying them! This doesn't just happen though, just like above, communication is vital here! Develop a relationship with your vendors, especially the ones like your photographer who will be with you ALL DAY. They are there to make sure YOU have the day you envisioned! And remember that quality vendors will make or break your day. As tempting as it may be to hire a cheap vendor just starting out, it does come with some risks.
Don't rush the experience
This goes for planning your elopement/wedding, and for enjoying it. Take your time, especially at the start of your engagement, to really nail down what you want. The main priorities you both share and how much you can afford on those priorities. If there's a vendor you REALLY want to book, reach out sooner rather than later to get as much info as you can and to check their availability. Also consider that the sooner you book your vendors, you are able to book them at their current rate as most vendors raise their prices annually. But after the main decisions of how, who, when, and where are determined, take your time to enjoy being engaged. And then on your elopement/wedding day don't try and squeeze activities into every single minute of the day. Spread out your as long as you can, even if that is over multiple days.
So, is it less expensive to have an elopement or have a wedding?
Final answer, it varies. It all depends on what your priorities are, and what you want the day you get married to be like. Having an elopement is no less significant than having a wedding day. Which means you can splurge and spend as much as you want for an elopement. BUT do so in a way that really really truly makes your day special for YOU two as a couple.
If food makes the top of the list, indulge in reserving a high end restaurant or private chef to prepare a meal for you two. Rent out a restaurant for your and your guests, or go on a wine tasting tour the day after you get married! If spending quality time with your fiance making memories together is your number one priority, consider having an elopement rather than a wedding. And don't let the myth that eloping is just a low-budget, last minute option deter you. My elopement clients books me months to a year out! And we put so much time and effort into making their day as intentional and as perfect for them as we possibly can.
But you know what's priceless? The experience you have on your wedding day.
Don't be that person who looks back and regrets their decision. A lot of people make their decisions based off of cost, which yes, you shouldn't go into debt for your wedding. However, experiences are what you will forever remember and tell your kids or family about. You want your day to end and say "I wish we could relive that day over and over again".
FAQs
Why would I elope instead of have a traditional wedding if it can cost the same?
Getting married isn't about how much you spend. Even though it's a huge factor in the planning, it's really about the celebration, the experience, and honoring the sacred union of marrying the love of your life. For some that looks like hosting a huge epic party with 300 people. And for others that looks like eloping in the mountains with just their partner. There are plenty of variations between those two options, but the important thing is determining how you want to get married not just how much you want to spend to get married. Just like you shouldn't let anyone talk you into eloping if you really want a big wedding, no one should be forcing traditional weddings on couples who do not want the big event.
How much does it cost to get marriage license?
This varies by State and County! But typically the average marriage license cost in the US is between $30-$100. The rules change for how to aqcuire one so be sure and check your local county clerks office or the location where you're getting married at. Some couples choose to legally get married in their home county and then to a ceremony afterwards. And then others choos to book an officiant and have the marriage legally obtained in the place they "get married".
---
Reach out!
If you're looking to go the nontraditional route and hoping to have an elopement or intimate wedding, don't hesitate to reach out and have a free consultation with us! We love helping couples craft their perfect days. You don't need to have all the answers - we will help!
A New Hampshire + Vermont based adventure elopement and intimate wedding photographer team for the adventurous souls. We specialize in New England and destinations worldwide, empowering you to create the most beautiful, adventurous day and give you the memories you'll be able to look back on for all the years to come.
---