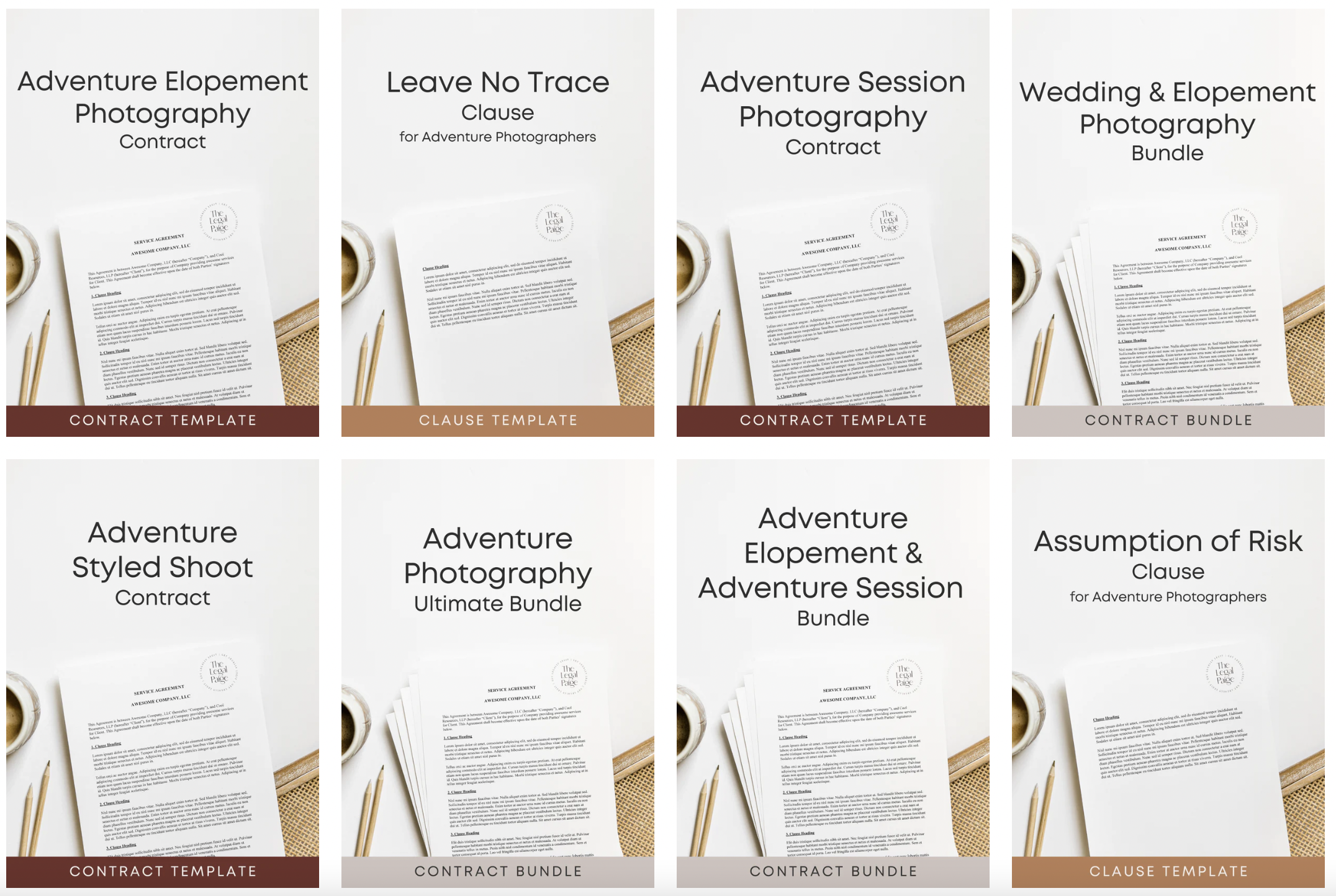 Disclosure: There are some affiliate links below and I may receive commissions for purchases made through links in this post, but these are all products I highly recommend. I won't put anything on this page that I haven't verified and/or personally used.
Being an adventure elopement photographer is one of my greatest privileges. We get to use our skills as an artist to come alongside couples to document one of the most significant days of their lives. I feel so honored to be trusted with the task, and I don't take it lightly. In the same way, I handle my business, I take it super seriously. Not only do I want to provide a quality product, but I want to be sure I cover all of my bases when working in the service industry. Because that's really what it is. We serve our clients. With our cameras and with our hearts. It can be hard to separate the emotional side of this biz from the legal side. Because most of us want our clients to also become friends right?
However, we can best serve our clients/friends by operating as a legit business. And that includes using contracts. Not just an agreement you pieced together based on examples from Google. But a legit, lawyer-reviewed contract that would hold up in court if need be! As creatives, it's hard to know what really needs to be covered, especially in the beginning. We are so focused on taking good photos that the business side can take a backseat sometimes. But do yourself a favor and get everything sorted out ASAP! Don't put it off. Having the peace of mind that you, and your clients, are all covered in case anything unfortunate happened will be priceless.
---
What to Include in Your Elopement Photography Contract
In this post, I'm covering 5 must-haves in your elopement photography contract. And if you're not sure where to get a legit contract for your adventure elopement photography business - check out the Legal Paige for the best (and legally binding!) contracts!
Products and Services Included
Limitation of liability
Cancellation and rescheduling
Assumption of risk
Leave No Trace
Products and Services Included
This may seem like an obvious thing that isn't necessary. Your client booked you for the services that you agreed on - right? You'd be surprised at how easy miscommunication can happen when a couple - who has probably never been married before, and is booking a photographer for the first time. Even if you've got your workflow and informational guides nailed down, making sure your contract clearly states what exactly you will be providing is essential. Every wedding or elopement varies in what they include in their services. Some may provide physical products like albums or prints, some may include planning services, or some might be providing the hourly coverage and digital files. Don't let there be any confusion on what your business is including, and state it clearly in your photography contract.
Limitation of Liability
This is something that needs to be in any photography agreement to fully cover your business in case of any incidents. Basically, it covers the limits to which you are responsible for reimbursing the client should anything go wrong. If there is any breach or failure to provide the services as agreed upon; (if you get sick, lose the images, have to cancel, etc.) It covers exactly what damages are owed to the client in this instance. Typically this clause will include information on the non-refundable policies, and cancellation information, as well as options, should you be unable to photograph the day (like providing an associate, or refund, etc.)
Cancellation and Rescheduling
This was probably the most talked about contract clauses in the industry after 2020 - photographers IYKYK. After weddings were forced to be canceled all across THE WORLD - photographers were thrown into a wild situation of having to evaluate what their contracts meant and deciding how or IF they were going to enforce it. It's an absolutely necessary clause to include in any photography agreement, since as day-specific service providers if someone cancels on their date - we lose out on potential income for the date we reserved for them. Clearly state your policies and fees for cancellations, no-shows, and rescheduled - and stick to it!
Assumption of risk
While this is something that can still be included in a wedding contract, it is particularly crucial for an adventure elopement agreement. Generally speaking, most of these elopements are outdoors, which increases the risk of injury or danger. Activities such as hiking, off-roading, swimming, etc. all possess an element of danger. (God forbid anything EVER happens on an elopement day). It is important that your client understands the risks involved - and agrees to assume all liability should anything happen to them. Relieving you and your business of the legal responsibility!
Leave No Trace
This is an adventure elopement-specific clause that really needs to be more common. As we photograph mostly in the outdoors, often in public land or national parks. It is important to outline to your clients what is proper behavior and ethics when conducting activities in nature. We want to be intentional about protecting our land so that it may be around for years to come. By including this in your contract, you are having your clients agree to follow all LNT principles and follow the rules while you are providing your services to them. This not only relieves you of any liability in regards to the area (I.E. you get fined because they were picking flowers in a National Park.) but it lays out your values as an adventure elopement photographer.
---
Adventure Elopement Contracts
I hope this helped clarify the importance of an elopement photography contract. Be sure and check out my blog for more Elopement Photography Resources and check out the Legal Paige for the best (and legally binding!) contracts!
A New Hampshire + Vermont based adventure elopement and intimate wedding photographer team for the adventurous souls. We specialize in New England and destinations worldwide, empowering you to create the most beautiful, adventurous day and give you the memories you'll be able to look back on for all the years to come.
---