Do You Need an Elopement Timeline
As elopement photographers, we are sooo much more than just a vendor taking photos. Since an elopement by nature is more intimate (with either few or no guests) the photographer plays a vital role in the tone of the day. While traditional weddings are very structured and planned, an elopement timeline is often less rigid. However, it is still vital to plan in advance, and not approach an elopement day with a lazy attitude. This is still a couples' WEDDING DAY - and in order for it to go smoothly, it is important to help them craft a stress-free elopement timeline.
An elopement timeline is absolutely necessary. Especially if you are photographing an all-day or multi-day elopement. While your client may think that having a chill day means not doing much planning - it's important to help guide them in the process. As an experienced professional, offering your insight into the logistic of an elopement day can be so beneficial. While you may not be offering full-on elopement planning services in your package, I believe it is still the photographer's job to help craft a timeline. This is always in collaboration with the couple, and with other vendors if applicable.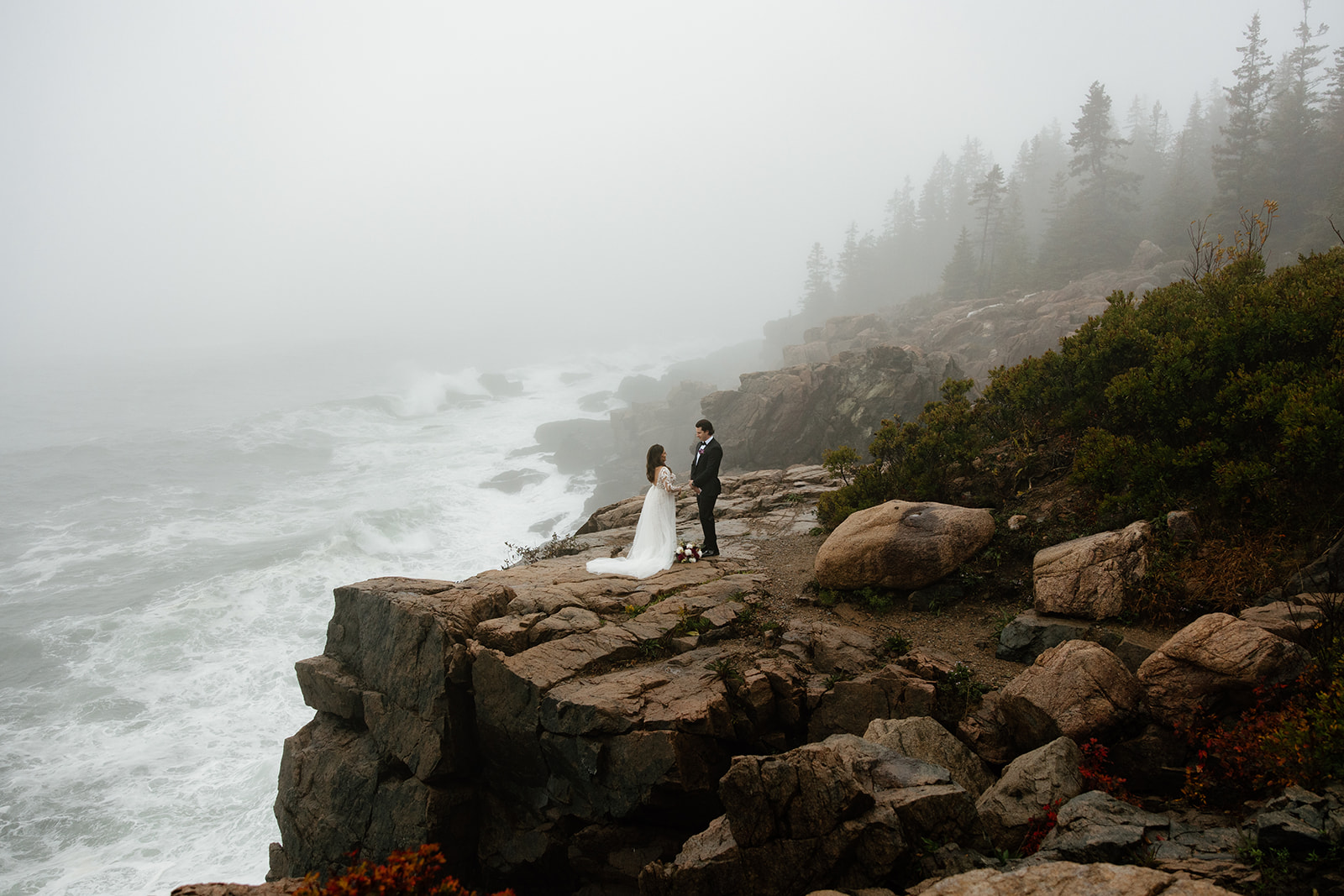 Cultivate a Relationship
This is soo important!! If you want to give a stellar client experience and give your couple the BEST elopement day: you HAVE to get to know them on a personal level! Elopements are so intimate, and being asked to photograph one is such an honor. Out of all the people they could have at their private wedding: YOU are the one that gets to spend the day with them! So take the time to build a relationship with them. From the very beginning, hop on a call (I recommend video chat). Ask lots of questions, take notes, and follow up. Invest in their lives as they are choosing to invest in you! By getting to know them on a deeper level, you will be able to know their personalities, what their priorities are, and what activities they enjoy. All the little details that will help craft a stress-free elopement timeline. AND it will make them so comfortable being around you. Which means the photos will be more authentic to who they are.
Leave Space in the Elopement Timeline
If you're coming from a background in wedding photography, you will know how jam-packed those timelines can be. From the very moment the couple gets up - to the grand exit, wedding days are FULL. Most likely your couple is choosing to elope because they want to escape that in some way. While adventure elopement timelines may have a lot going on, leaving room to relax can be super important for some couples. I also recommend leaving enough buffer time between activities so there is no stress on "being late". Always leave extra time for driving, hiking, getting ready, etc. I never want to be rushing my clients around at the elopement. I want the day to flow naturally and with flexibility, while still having a loose structure to it.
Remember that you are the expert
I've had to remind myself of this several times. When your couples ask you questions, or if they seem like they are just guessing their way through their day, it's because they don't know! They have no idea what to expect, how to time events, or know how the day could go. Although they may think that they only need 15 minutes to get ready, you know through experience that it takes more time than that. It's important to educate them on this, along with the advice on making sure they have a stress free day.
The worst thing that can happen is that they disagree with you. And in that case, at least you tried. However, from my experience of documenting over 100 elopements and weddings, your couples are going to trust your advice and expertise. Be the expert, and have their best interest.
Come up with multiple backup plans
Coming up with backup plans isn't just for your couple, it's for you too. With elopements, there can be a lot of pressure on us as photographers to be the day of guide. If weather shifts, or locations don't work out, or maybe your groom forgot his shirt and didn't realize it until you got to the top of the mountain (yes, true story) - then you will need to pivot.
Backup plans give a sense of calmness for the day. If there are certain things that need to shift, you already know the new plan. These backup plans can be locations, weather dependent changes, or timeline adjustments. Once again, be the expert. Show your couples that you have their back. Have all of these in place and know how to pivot in the moment. It can be a lot of pressure, for sure. If you have backup plans in place, then your couples will be wow'ed by their experience with you.
Have an in depth timeline chat beforehand
I started having an in depth timeline chat before my couples days about two years ago. It truly changed the game for myself, and my couples. This timeline chat generally lasts about an hour because we go over literally everything.
The timeline in full detail
If guests are included, family/friend photos
What to expect of the day from beginning to end
How to prepare
What to bring
Prep for photos
Going into full detail with your couples allows them to feel at ease, and it gets you all on the same page. This way, there are no questions going into the day, and every single person can show up and just enjoy. Having these conversations also helps answer any questions that may have occurred on the day of. While everything may not go completely perfect, at least you have done your due diligence to create an incredible experience for your couples to know that you have their back.
---
Adventure Elopement Photographer Resources
Check out my blog on How to Create an Incredible Client Experience and be sure to follow me on Instagram for more adventure elopement photography tips and resources!
A New Hampshire + Vermont based adventure elopement and intimate wedding photographer team for the adventurous souls. We specialize in New England and destinations worldwide, empowering you to create the most beautiful, adventurous day and give you the memories you'll be able to look back on for all the years to come.
---