You're here because you are ready to ditch the big wedding plans, elope instead and looking for a Maine Elopement Photographer and expert!
The state of Maine is one of the most beautiful locations to elope in. From the coastal towns, to the National Forests and State Parks, Maine has everything you could want in an elopement location.
I can't wait to help you plan your perfect adventurous wedding day.
Mountains
Ocean
Cliffs
Forests
Waterfalls
Lakes
New England charm
Whether you love the ocean, or the mountains, then Maine has the perfect spot for you. All you need is an officiant and two witnesses, and it will be official!
Maine is home to the only National Park in New England, along with some of the most beautiful mountain ranges on the Appalachian Trail.
The first thing to know about Maine is that it is HUGE. Going from the Southern to Northern tip of Maine can take up to 6 hours. So you'll want to be clear about the destination you are hoping for with you elopement.
The best airports within Maine to fly in and out of are Portland and Bangor. If those are pricey, look at flying into Boston then getting a rental car. Sometimes the driving time can be worth it.
The way I like to look at Maine is in sections. If you want the ocean, stay on the eastern side of the state in places like Bar Harbor, Kennebunkport, York, or Portland. If you want the mountains, head north and look closer to the White Mountains in Grafton Notch State Park or Baxter State Park.
There are plenty of hotels, B&Bs, Inns and short term rentals (airbnbs/vrbos) in each location.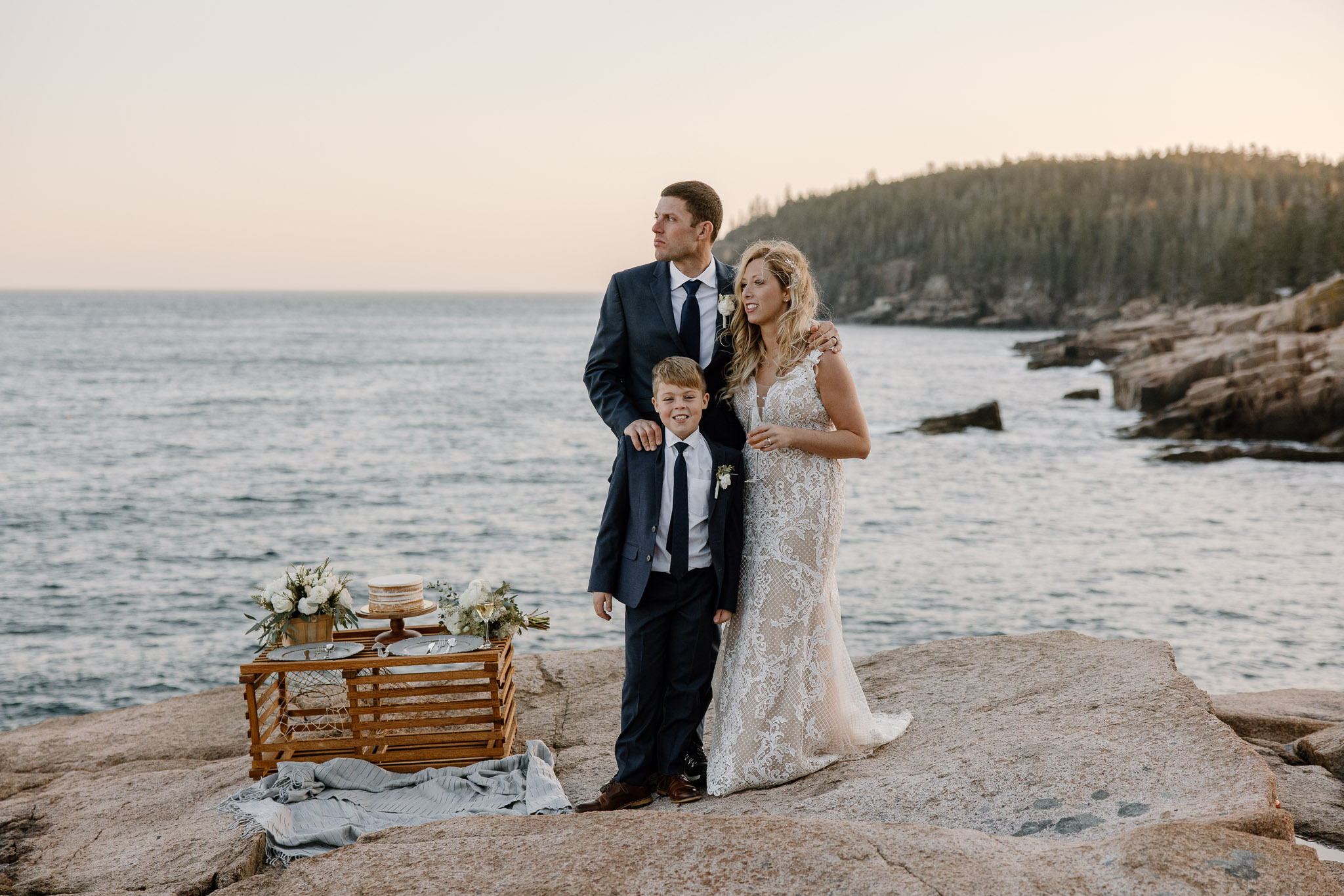 Maine has such a wide variety of places to elope. Depending on the type of landscape you are going for will dictate where you elope in Maine.
Some of my favorite locations to elope are Acadia National Park, Grafton Notch State Park, Baxter State Park and Portland.
But I have some hidden gems up my sleeve for my couples!
I'm a maine elopement and small wedding photographer
Born and raised in New England, I'm an adventurer at heart. I'm always on the go exploring new places constantly to update my elopement locations for amazing couples like you! I'm a real maple syrup addict, love all things Fall and obsessed with meeting new people.
The outdoors and exploring in new places is what makes me feel alive. So I truly believe I have the best job in the world. Because if you're here, I can imagine you feel the same. I can't wait to daydream up the most perfect Maine elopement day with you and make the dream come to reality. I have a good feeling we'll be good friends and have the best time together!
hear it from my real elopement couples
"On the day of our elopement, Kelsey delivered with her amazing energy. She's not there to stiffly pose you, she's there to document the real moments for you as a couple and while she'll offer direction when you need it, she'll awe you by catching all the beautiful, genuine, special, tearful, joyful moments you'll remember forever."
"She provided us with guidance right from the get-go, answering questions about everything from hiking boots to hair and makeup crises to permits, and took our vague, half-formed suggestions (Acadia National Park, foliage, mountain and water views, can we take a boat ride??) and turned them into something both achievable and magical."
"I didn't realize how many ways that an elopement photographer could help you prior to the big day, but Kelsey absolutely has the bases covered! She will be your hype-girl throughout the whole process and will be there with tips, recommendations, and encouragement!"
helpful elopement planning resources
How to plan the perfect elopement
How to include your family
How to make your ceremony special
Whether you're including family or not, this post is a fun resource to figure out how to include them and keep your day feeling true to you.
Having an elopement or small wedding means you can make your ceremony (and day) exactly how you want it. Read some fun ideas on how you can make your ceremony unique and 'you'.
Is eloping planning overwhelming you? I get it. Check here on the steps I tell my couples to take in order to create a day that feels true to them. Hint: there is no dream that can't become a reality!
Maine elopement stories + inspiration
most couples invest between $6k-9k
As an elopement photographer, I value the experience I provide my couples. I am so much more than just a photographer. Here's just a little insight of the experience and what's included in my packages.
unlimited guidance + ELOPEMENT EXPERIENCE RESOURCES
Access to my incredible 90+ page elopement experience workbook, packing list, guest guide and more. My goal is to make your experience seamless and positive.
I'll help you create your perfect day, making sure you have a stress free day that you can stay present at. I have expertise in building true elopement timelines.
LOCATION SCOUTING + VENDOR RECOMMENDATIONS
I do hours of research to find you the perfect locations for your day and will help you find vendors so you can get your time back.
Having documented 90+ elopements, I know all the ins and outs of things you wouldn't have thought of - like how to pack your dress, deal with weather, prepare your guests, and a lot more.
As long as I can get there by 2WD, then you don't have to worry about extra fees! Yep that includes gas, rentals, accommodation, food. One less thing you have to worry about!
A lot of my couples want seclusion and privacy, so they are excited to find out I am ordained and can sign their marriage papers - fo' free!
if you're unsure where to start with this whole elopement planning thing...
then let me reassure you, this is your first step. it's all so simple from here.
Let's do this!
READY TO EXPLORE MAINE? GO AHEAD AND FILL OUT THE CONTACT FORM AND I WILL BE IN TOUCH WITHIN 48 HOURS!