Leaving business reviews can sometimes feel like an inconvenience, I know. I'm totally guilty of forgetting to write a nice Yelp review on a place I ate or give a 5 star mark to a product I loved. But reviews for small business are so crucial and beyond important for us wedding professionals!
I've heard plenty of people say "oh I'll get to it", or "I don't have time for that". But I promise, this is 5-10 minutes of your life that could make a HUGE difference for our businesses. We don't take the time to ask you to do them just for the fun of it - they really matter. Especially as an adventure elopement photographer, elopements are still new and people don't know what to expect. If they are starting to do research and come across reviews how someone's elopement was the most incredible experience, it may solidify their decisions.
So with that, I'm about to go into all the reasons and benefits they have for us.
---
Why business reviews are important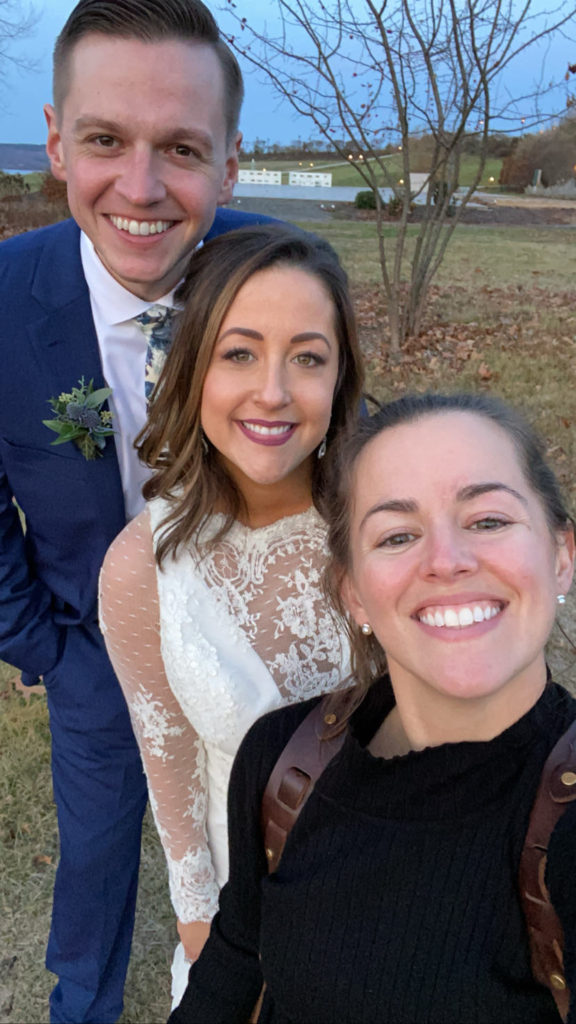 It builds trust with potential clients
In our culture of online shopping, seeing reviews on what we want to buy or book is vital. Having past clients write about their experience working with me helps future clients get a peak at what they'll be getting themselves. I want my clients to not have to guess if what I'm selling is just empty promises. By reading past clients personal experiences, potential clients get to know just what it's like to book me as their photographer! While I can share lots of info on my website and social media pages about who I am and what I do, it really means nothing without someone backing those promises up with personal experience!
Picture this - we have potential clients looking at three different photographers. The other two have just a couple reviews, but I have 50! Subconsciously, it makes them a bit more excited and confident to go with the one with more reviews.
Referrals
As small business owners we get a lot of our work from referrals from past clients. Telling your friends and family and tagging us in the photos you post means so much. By writing a review for us to use (on our sites, social media, etc.), it helps spread the word and boost our business. When you submit your kind words reflecting your experience, that is going to be seen by my future potential clients! It's like having a bunch of little work references from the people who have been through the process!
It boosts our confidence!
Let's be real, as small business owners there's a lot of isolation and not a lot of affirmation. We give so much, and while yes, we are getting paid and we should be giving that much, it's nice to hear a "good job"! Having our clients tell us how much they loved their experience working with us and the product we've given them is HUGE. We love what we do, and we hope that our clients feel the same way. There are seasons throughout the year that we get SO busy. And as incredible as the wedding days are, they can be exhausting. Getting an email with a "you have a new review!" lights us up and gives us the energy to keep going - to make us know we are making a difference!
Helps with google ranking
The more reviews we have, and the more keywords that are in google, the higher our rankings are! Crazy right? More reviews show google authority and expertise, hence wanting them to show us more when people are searching for specific vendors. There's a lot of competition on search engines, and having quality reviews can help our website reach more clients and keep our business running!
Adds photos to google
Reviews with images help as well. Adding photos to your reviews are generally shown more. Plus, when people are searching and see beautiful work, they are more likely to click on our websites (which the more traffic to our site, also help with our rankings!). You know when you browse that cute shirt on a website and you click "view reviews with customer images" it's kind of the same thing! We love a good visual of the product we are going to buy, especially from another real person who has at one point been in your shoes planning a wedding/elopement themselves. Seeing images + words is a powerful marketing combo that really keeps businesses thriving!
We can use them for marketing
When you write a review, we can use these for marketing purposes. Whether it's on our websites throughout to social proof, or even on our social media. If a potentially client has been eyeing us for a while, then they see all the amazing reviews we are posting, that makes them even more excited to potentially work with us!
---
How to write a great review
Now that we know WHY they are important, it's time to learn how to write great business reviews. Now you could go on and just click that 5 stars and call it a day, but that isn't really helping anyone. Below are some great tips to making sure you are writing a high quality review for your vendors or small businesses.
1. Start with an opening statement
Like with any type of writing, the very beginning is the most important. Start off with something really strong. It's great to start it off with how you'd recommend them and a quick explanation as to why. It's basically a summary of what you're about to explain below. That way, if someone is just quickly reading through, they can get the point from the very beginning.
2. Make it at the very least a few sentences
You could write a review like "Highly recommend" or "Great experience", but that isn't giving anyone the proof or details into WHY you would recommend the small business. Having at the very least four sentences will give more detail into the experience you were given and why you'd recommend them to other.
3. Include keywords.
Now if you're not a business owner or in marketing, you probably have zero clue on what I'm talking about. Keywords are things like "elopement photographer", or "wedding". It's basically words that are related to what the business is about.
Why is this important? Let's use myself as an example. If someone is looking for an elopement photographer, they may type in "elopement photographer" into google. This is a keyword. The more that the keyword "elopement photographer" shows up on my website, or is associated with my business, the higher the chances of me showing up is. So this also includes reviews. With reviews saying "I loved having Kelsey as my elopement photographer", you are telling google that Kelsey Converse Photography is an elopement photographer".
4. Share your experience.
While saying that you highly recommend someone is wonderful, sharing your experience and being detailed is what will really set us apart from others. Think of the experience that the business/person gave you from the very beginning to the end. Did they do anything that went above and beyond? How did they make you feel? Did they help you throughout any challenges? All of these questions will help you remember the little things they did to make your experience wonderful.
5. Write in paragraphs
You want to make it as easy as possible to read, so write in paragraphs instead of one big block of words. It makes it easier to breeze through - just like if you were reading an article or a book!
6. Upload photos.
Uploading some of your favorite photos from the day are also really helpful! Reviews with photos are generally the most popular ones that show up. They show potential clients a little insight of what type of photos they would be getting, and connect the review to an image. It also helps get more photos onto google, so when people type in a keyword, hopefully the image can pop up!
7. Do not stress about the length!
A lot of people will say "I'm so sorry I wrote so much!", or "I didn't want to go overboard". No no no, we LOVE it. Go overboard! Share with us all your feelings. The more detail in your review, the more social proof we have to potential clients. And not only that, when we get these reviews, it makes us feel so great. I can't explain the feeling!
---
Examples of amazing reviews I've been left
So now that you know a little bit on how to write a great review, I want to share some examples and tell you why they are helpful to myself and others. Below are some awesome examples of what we are looking for in business reviews.
Example #1
What I love about this review:
Starts off strong! They immediately say, if you are considering booking, do it! That's gives a potential client a lot of confidence.
They told their story. I love how they shared their importance of what they were looking in a photographer, and how I was that for them.
They gave examples of how I went above and beyond for them. This shows that not only do I provide the experience I tell you I'm going to, but I will also do more!
Ended with their gallery delivery and how they can't wait to work with me again!
Example #2
What I love about this review:
Starts off with all the things I was to them - and not just their photographer.
Talked about the feelings throughout the day including imagery. This allows people to know what to expect from me in terms of energy, how I capture moments and the way I approach a day.
Vulnerability. I absolutely love that she shared something she was nervous about, but I took all the nerves away.
Photos - she shared some of her favorite photos and I feel like she shared ones that went with her review so well!
---
A New Hampshire + Vermont based adventure elopement and intimate wedding photographer team for the adventurous souls. We specialize in New England and destinations worldwide, empowering you to create the most beautiful, adventurous day and give you the memories you'll be able to look back on for all the years to come.
---