Mountains
Ocean
Cliffs
Forests
Waterfalls
Lakes
New England charm
Acadia is honestly one of my favorite National Parks because of the diverse landscape it offers. It also has great food, good vibes, and kind humans.
There are also plenty fun activities to do in and outside of the park for your elopement day. Basically, your elopement in Acadia will be nothing short of amazing.
Traveling to Acadia can be a bit tricky because of how far north in Maine it is. The closest largest airport is Bangor, which is a little over an hour from the park. Depending on where you are flying from, you can also fly into Portland Maine, or Boston Massachusetts. You will need a rental car, but the drive is absolutely beautiful along the coast.
I would also recommend to take the long coastal route through Belfast Maine to not drive on the highway so long!
When looking for where to stay in Acadia, you have to know that getting around the park actually takes some time! It could take up to 45 minutes to get from one side of the park to the other, so where you stay depends on where you plan to be most of your time there. I'd look into Bar Harbor (main part of the park), or staying on the Southwest Harbor (the less popular part of the park).
There are plenty of hotels, B&Bs, Inns and short term rentals (airbnbs/vrbos) in each location.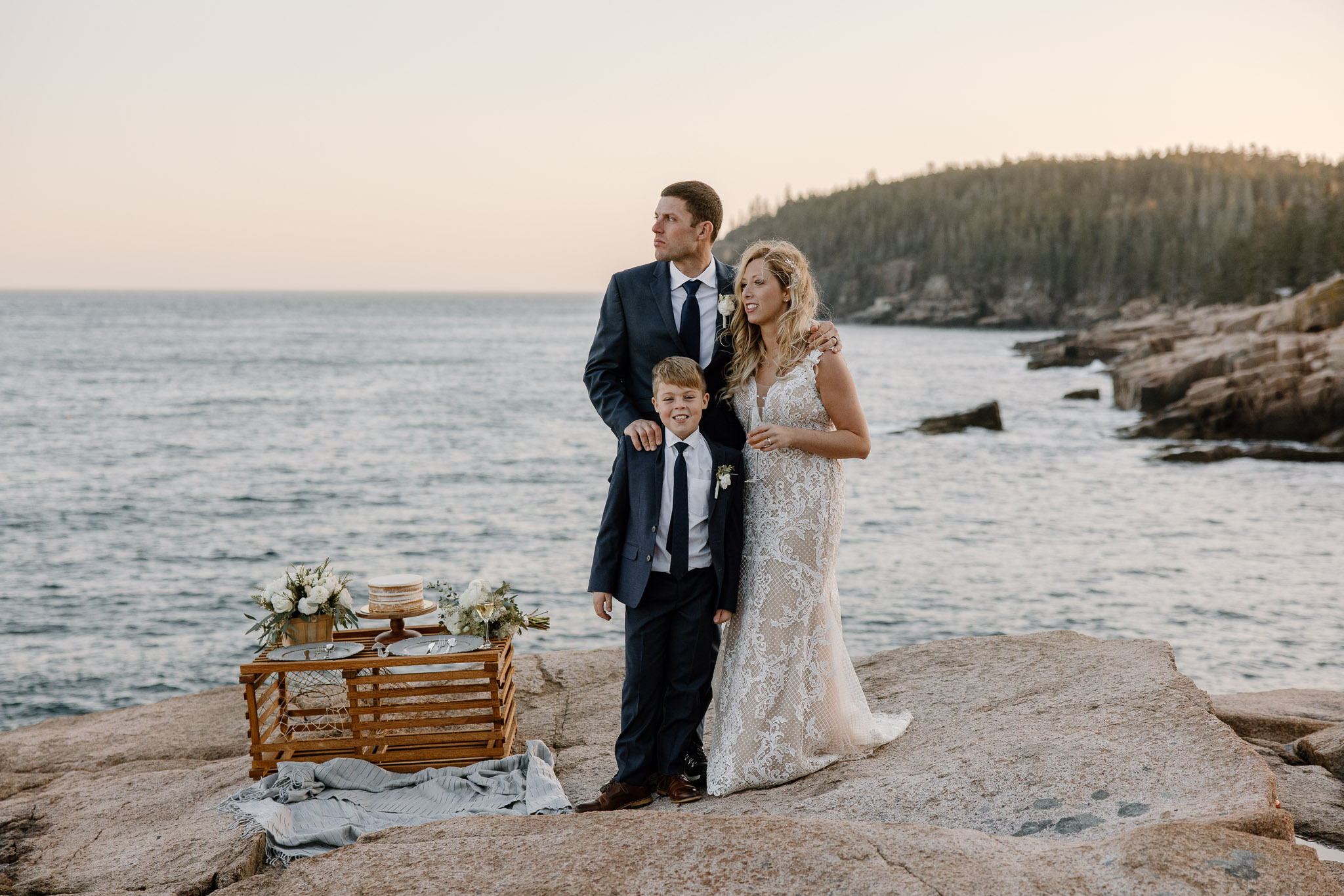 There are so many incredible places to elope in Acadia, as I've mentioned. Some are more popular areas than others, but it all depends on the type of scenery you want to be surrounded by. Depending on how many guests you have will also dictate where you can elope in the park.
Some of the best locations to elope are: Otter Cliff, Otter Point, Sand Beach, and Cadillac Mountain.
But I have some hidden gems up my sleeve for my couples!
acadia national park elopement
I'm an acadia elopement photographer with a whole lot of knowledge about this beautiful national park.
Born and raised in New England, I'm an adventurer at heart. I'm always on the go exploring new places constantly to update my elopement locations for amazing couples like you! Acadia is basically my second home, and one of the locations that I specialize in. I'm a real maple syrup addict, love all things Fall and obsessed with meeting new people.
The outdoors and exploring in new places is what makes me feel alive. So I truly believe I have the best job in the world. Because if you're here, I can imagine you feel the same. I can't wait to daydream up the most perfect day with you and make the dream come to reality. I have a good feeling we'll be good friends and have the best time together!
helpful planning resources
How to plan the perfect elopement
How to include your family
Create a sustainable wedding day
Whether you're including family or not, this post is a fun resource to figure out how to include them and keep your day feeling true to you.
Having an elopement is already reducing so much waste, but check here for some fun ways to make your elopement day sustainable and eco-friendly.
Is eloping planning overwhelming you? I get it. Check here on the steps I tell my couples to take in order to create a day that feels true to them. Hint: there is no dream that can't become a reality!
For Acadia National Park Elopement inspiration + elopement tips, check out below.
most couples invest between $6k-9k
As an elopement photographer, I value the experience I provide my couples. I am so much more than just a photographer. Here's just a little insight of the experience and what's included in my packages.
unlimited guidance + ELOPEMENT EXPERIENCE RESOURCES
Access to my incredible 90+ page elopement experience workbook, packing list, guest guide and more. My goal is to make your experience seamless and positive.
I'll help you create your perfect day, making sure you have a stress free day that you can stay present at. I have expertise in building true elopement timelines.
LOCATION SCOUTING + VENDOR RECOMMENDATIONS
I do hours of research to find you the perfect locations for your day and will help you find vendors so you can get your time back.
Having documented 90+ elopements, I know all the ins and outs of things you wouldn't have thought of - like how to pack your dress, deal with weather, prepare your guests, and a lot more.
As long as I can get there by 2WD, then you don't have to worry about extra fees! Yep that includes gas, rentals, accommodation, food. One less thing you have to worry about!
A lot of my couples want seclusion and privacy, so they are excited to find out I am ordained and can sign their marriage papers - fo' free!
Get In Touch
Ready to explore acadia? go ahead and fill out the contact form and I will be in touch within 48 hours!