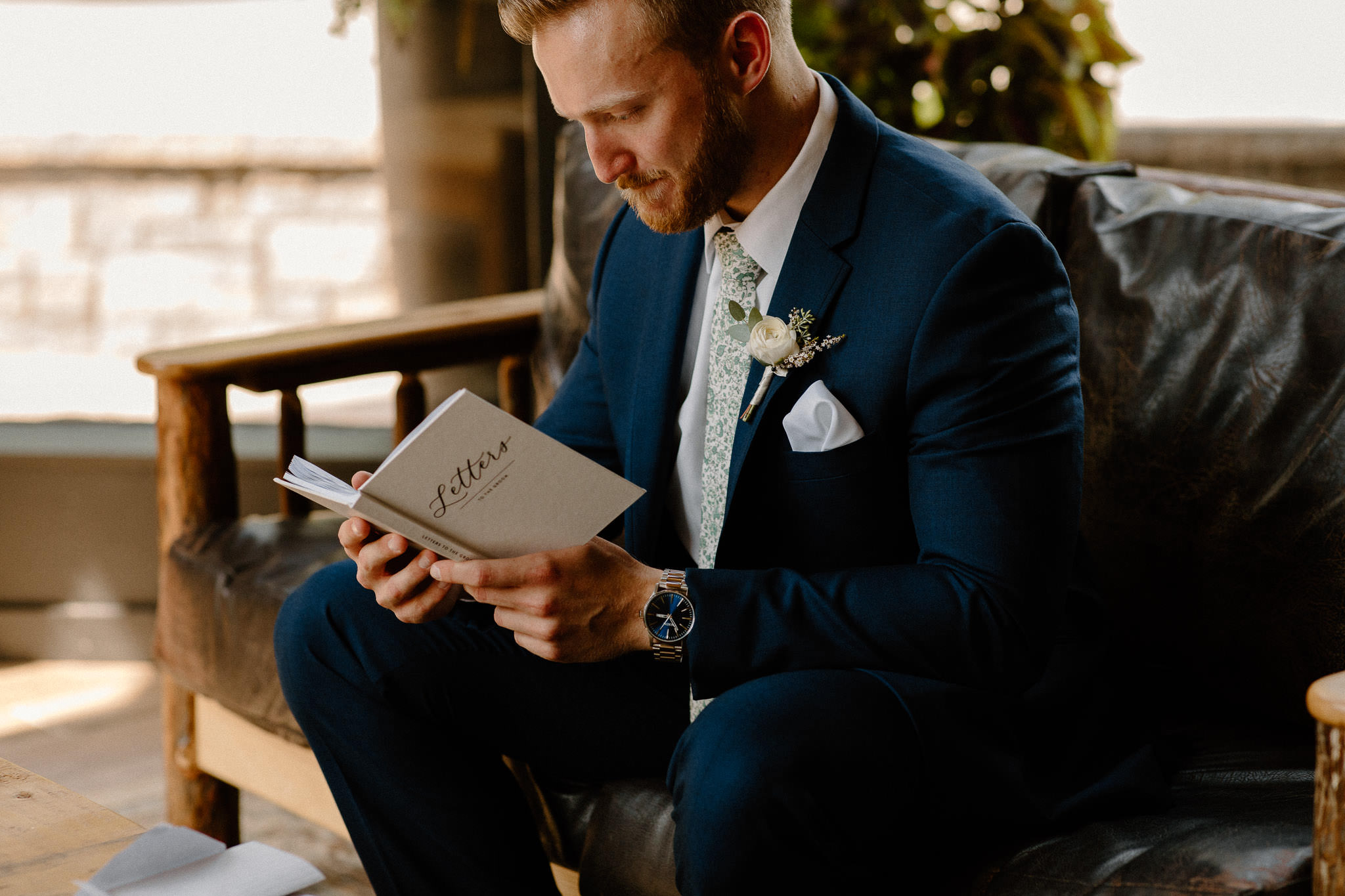 Getting married is an extremely important and special time in a couples life. It is normal and understandable to want to include family at your elopement - they are usually some of the most important people to you. While generally elopements are explained as just the two of you, you can absolutely still have your family involved!
Even if you decide that you want to create your perfect 'just us' wedding day experience with only the two of you physically there, there are other ways to include your family. There are fun and creative ways to make it still feel like they are there with you.
Many people just aren't able to have their families join them, as well as choose to not have anyone there. Whether that is because they decided for a destination that their grandparents couldn't join, or just trying to remove guests in general for stress sake.
There are other ways for your family to be there and support you in a variety of ways. It is extremely important to remember that this is your day, and you need to do what you feel is best. I wanted to include ways that you can incorporate those you love in special ways whether they are present or not.
---
How to include your family before your elopement day
Marriage is a full on process. It doesn't just start when the wedding day begins, but really it starts as soon as you are engaged! The planning process can be a long or short one, depending on your preference, but there are way to include your loved ones that could be special. Whether or not you are having family present on your day, these are some good ideas to include them before your elopement day.
Invite them to find wedding attire with you
A sweet tradition that you can keep is still go shopping with your closest family members. Bring your grandma to your dress fitting, or your dad to pick out your suit colors. While this may be something simple for you, this moment can mean so much to those who love you! Pick a day and make a fun adventure out of it with them. Bring them to lunch, talk about how you envision your day going, then go choose what you are going to wear. They will love it!
Throw an elopement day send off
While you may choose to elope just the two of you, it might be nice to have a small elopement day send off cookout with your family. You can do this even if you are having family present, and just include friends during this time! This is the time that they can shower you with love and hugs before you come back a married couple.
Use their special skills
Do you have family or friends that have special talents? Such as making beautiful florals, or could record a song on the guitar for your first dance? Maybe your cousin is an artist so you hire them to create your announcement cards. Think of ways that your family or friends could be involved and feel like they are helping in ways that will make your day special.
---
How to include your family on your elopement day (if they are not present)
On your elopement day, you may decide to elope just the two of you. This is a preference many couples have to avoid any stress and truly have a relaxed day. If there is any part of you that is a little bummed that your family won't be there, then I'm going to give you some ideas on how to include them! This may help ease the sadness and make it seem like they are still there with you.
Have them write personal notes to the two of you
After you said I do (or before!), it would be special to then sit down and read the special notes that your loved ones wrote to you two. You can have them write it all separately, or you can even get a little book and have them each write something to you in there. Then you'll also have it forever. I've had several of my couples choose this option and it has filled them with so much joy hearing the sweet memories or well wishes from those they love most. This is a perfect thing to do at your sunset dinner, or even just as your up on the mountain with no one else around.
Facetime them in to part of your day
How you want to Facetime your family in is completely up to you. You can have them Facetimed into your ceremony, call them as you are getting ready, or see them afterwards once the day is over. That would be a fun way to show them how happy you are on your day! Another fun option is facetime them for a first dance. I saw this sweet idea on Instagram and it was such an emotional and special way! Basically you'd first day with your dad/mom through facetime!
Some of my couples have facetimed their family and friends as they are getting ready to show off their attire. I love when they do this and seeing the emotions on their faces. It's so special.
Include family details and heirlooms
Having passed down wedding details or important items a part of your day could be a special way to include your family members. Some ideas could be jewelry, your dads tie, taking pieces of your moms dress, or even bring your grandmothers favorite blanket for your brunch picnic. Seeing their belongings in the photos is a great way to get them excited that they were still kind of there!
---
How to include your family on your elopement day (if they are present)
If you've decided to include family at your elopement, there are plenty of ways to include them. Especially those who you are both close to, it's sometimes special to have them a bigger part of your day. Below are some ways that you can involve your family in your elopement day if they are present.
Get ready all together
With elopements, you are only having 10-20 guests at your elopement. The less people, the less you have to worry about! And that way, you could all get ready together. Each of you could have your own closest people getting ready with you. Whether one of them does your hair and makeup, or you get it done together by a professional! This is a fun way to get the excitement going.
Use one of them as your officiant
I love when people use someone they love as their officiant. It's a special way to get them involved, but also make the ceremony even more personal. They can write their own script, or you can write it for them. I definitely recommend to give them your vision, how long you'd like it to be, and trust them with it! It makes it a bit more fun that way!
Use their special talents
I said this one already in the before your elopement section, but the same can go for the day of your elopement! Someone in your family may be musically talented, so you can have them play an instrumental as you walk down the aisle. Or maybe they are hair or makeup artists and they can help you get ready. Think of special ways that you can use their talents to make the day even more special.
Have them write speeches
Usually when you have family there, it means they are really important to you. One of my couples had everyone at their Airbnb for pizza after, and some of their family members gave speeches. It was emotional and a special way to have them involved and feel like a big part. They are allowed in this moment to tell special stories. And what was amazing about doing speeches, is the families are coming together sometimes for the first time. It's cool to have each other hear about how others feel about one another. It's a way to really be present and feel even more special on your day.
---
How to include your family after your elopement day
After your elopement, a lot of couples still want to have a bigger celebration or show off the way they got married. Which truly, elopements are pretty freaking cool and worth showing off that you skipped all the traditions! This is a nice way to cap off the experience and get those you love involved and celebrate with them. Here are a few ideas that you could do after your elopement day.
Create a video of your day for them to watch
Hire a professional videographer, or even create your own little video depending on how you envision it. Take your phone, a GoPro, or a professional and document your day somehow. Maybe even give them a shoutout during it! Then once your day is done, gather everyone together, watch the video and watch all the tears flow.
Create a small album or get special prints done
Get creative with some type of album, magazine or single prints done for your family members of your day. Even write a little note for them as a thank you for all they've done throughout your life until this moment. This will show your appreciation during this special time. You can even do a "we eloped" card with these notes in it as well!
Host a fun after elopement reception or post elopement party
Just because you eloped doesn't mean you can't have a party after! Some people really love the thought of having all their favorite people in one place, and this gives you best of both worlds. You can spend your wedding day with your person, soaking it all in, then later have a celebration with your friends and family. Just like your elopement, you can make your reception as 'you' as you want to. Make it fancy and extravagant, or just a simple flannel party barbecue.
You could also just plan to have your family meet you for dinner right after your elopement day. Some of my couples plan to do this, especially if they are planning to get married just the two of them. They will spend the whole day together just the two of them, then have their families over for their dinner reception! You can rent out a space at a restaurant, do it at an Airbnb or host at your own home!
Bring them back gifts from your elopement location
Is Christmas a big part of your family? Then maybe a fun Christmas ornament from your elopement location could be a good way to let them all know you were thinking of them. Or maybe you eloped in Italy, then bring them back some wines and cheeses for when you celebrate and look through photos together. Thoughtful gifts may ease the pain of not being able to celebrate ON your day, but instead get to still celebrate afterwards.
---
Pin this on pinterest!
A New Hampshire + Vermont based adventure elopement and intimate wedding photographer team for the adventurous souls. We specialize in New England and destinations worldwide, empowering you to create the most beautiful, adventurous day and give you the memories you'll be able to look back on for all the years to come.
---