Michaella and Zach saw on my travel schedule that San Diego was one of the destinations in March. Southern California is actually a really special place for them - especially Michaella. She spent quite a bit of time out there for an internship while she was in school, and has been wanting to go back to this beautiful part of the US.
They figured it was the way to make a mini vacation, AND do their engagement session while exploring a new place in SoCal together. We decided on the cliffs in Carlsbad; which is truly one of the most beautiful places for sunset that I've ever been to(especially being from the east coast!) I am just obsessed with watching the sun go down on the west coast. I could seriously get used to it, and can't wait to go back!
We explored the cliffs, walked around, and they got to enjoy the beach by playing in the water. We had such a blast making a fun experience out of their engagement session on the cliffs; and then we even included their jeep rental in some of the photos too!
---
Top Engagement Photo Locations near Carlsbad California
With it's cliff-lined coast, and sandy shores; Carlsbad, California is a DREAM. There's something special about SoCal. From the laid back surf culture, to the dreamy golden sunsets over the sea; San Diego is a great place to take photos. If you're from Southern California or planning a visit there; here's the best photoshoot locations near Carlsbad for engagement photos!
Carlsbad Beaches
Okay it may be the obvious answer, but I have to include the coast in the list of photo shoot locations in Carlsbad! It's the classic San Diego backdrop, and there's plenty of options to choose from around there! Here's a list of beaches around Carlsbad for engagement photos:
Terramar Beach: Located on the southern part of the Carlsbad coast, this quaint and somewhat hidden beach is a great spot for local surfers to catch a wave. Here's you'll find those classic golden bluffs lining the shore.
Tamarack Beach: the most popular stretch of beach as it's the state beach and most accessible. Here you may find more families and visitors exploring the shore.
North Ponto Beach: A part of the South Carlsbad state beach with a narrow shoreline and steep bluffs.
Beacons Beach: Technically "South Leucadia State Beach" in Encinitas
For more beach photo shoot locations outside of the Carlsbad are you can get detailed info at California Beaches! San Diego beaches don't require a photo permit for small shoots at this time, so there are plenty of options for engagement photo locations! You can get more info on that here.
The Carlsbad Flower Fields
Okay believe it or not this is NOT in the Netherlands. This gorgeous field of flowers is located in Carlsbad and is a super unique place for engagement photos! There are a couple caveats: it's only open between March - May in the Spring! AND they do require a photography permit fee for shooting. But if you want to book a photoshoot at the Carlsbad Flower Fields it is possible and totally worth the extra effort!
San Diego Botanical Garden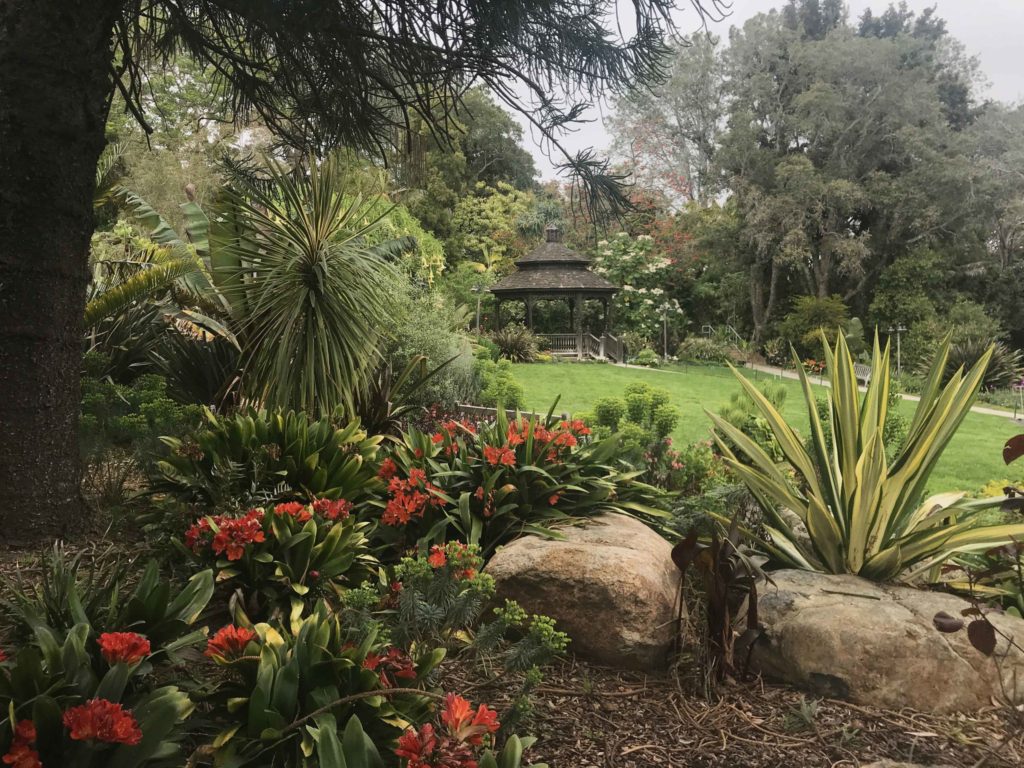 This garden is HUGE. With 37 acres of plants including bamboo groves, desert gardens, a tropical rainforest, California native plants, Mediterranean climate landscapes, and more! While this may be more of a tourist spot, there's lots of neat areas to explore around here. This location does also requires a photography permit fee which you can learn about here.
Elfin Forest Recreational Reserve
Located about 25 minutes from Carlsbad, this area is just as magical as it's name! The Elfin Forest has trails for hiking, horses, biking, and some rad mountain viewpoints of Escondido! Different from the sandy beaches of the SoCal coast, here you'll find more forest foliage and small creeks.
Oceanside
Just head 10 minutes north and you'll hit another gorgeous section of the coast! Here you'll find a fishing pier, harbor, and lots of space to walk along the palm tree line beach.
Encintas
Just 15 minutes South of Carlsbad you'll find another fun beach city! Named "one of the 20 best surf towns in the world" by National Geographic, Encinitas wears its surf history proudly. Some parts of the coast require taking steeps steps down to the shore, but there are easily accessible locations with walk-up access as well!
San Diego Elopement Photographer
Now that we've covered the many epic locations for your Carlsbad Engagement photo session; it's time to start thinking about your wedding plans! Head to my San Diego Elopement page for more into on eloping in this gorgeous part of Southern California. You can also check out this San Onofre elopement nearby for more San Diego Elopement photo inspiration! There's TONS of gorgeous engagement and elopement locations in Southern California in addition to this little list. I love shooting in California and am always happy to travel there for my clients!
Carlsbad Engagement Photos on the Cliffs
---
Don't forget to follow me on Instagram for more Carlsbad engagement photo inspo!